Oleksandra Matviichuk gave up on her dream of becoming a theatre director. Instead, she earned a law degree and became an influential human rights defender. Matviichuk is the laureate of the Nobel Peace Prize 2022 and the head of the Center for Civil Liberties.
§§§
The Ukrainians Media is an award-winning independent media company focusing on high-quality, long-form, and visual journalism. Our mission is to foster positive social changes in Ukraine.
This story was created thanks to the support of our readers. Please join The Ukrainians Community on Patreon and help us publish more important and interesting stories.
§§§
Maidan
Someone came here during all four revolutions—the Revolution on Granite, Ukraine without Kuchma, the Orange Revolution, and the Euromaidan. Some joined the protests for the first time in 2013 as first- or second-year students. Others know about this square as a key venue of rallies and struggle only from the news or their parents' recollections. But everyone is well-aware of the continuity of the phenomenon of freedom that originated at Maidan. Even if you don't know whose shoulders you're standing on, they are still strong enough to prop you up.
We meet with Oleksandra Matviichuk at Maidan Nezalezhnosti—a location she finds significant and emotionally complex. Oleksandra recalls: "I was standing here as a student during the Orange Revolution—and it was the first time I felt the joy of unity since I was surrounded by freedom fighters. I was thrilled to stand among them in 2004. I was proud of it. A decade later—and peaceful protesters were shot here. It was then, on February 18-20, 2014, that our team first started documenting crimes."
During the Revolution of Dignity, the Center for Civil Liberties offered legal assistance to the Maidan protesters through a hotline and its team of lawyers. After the shootings in Instytutska Street, it became clear that lawyers could not help much, so the team went to morgues and hospitals, as well as the hotel Ukraina where the bodies were brought, too: "We realized that the regime gave shoot-to-kill orders to crush the protest. But we had no idea how long we had left, assuming they could come for us at any moment. So we hurried to collect as much information as possible."
Oleksandra Matviichuk avoided Instytutska Street for several years afterward.
"Some people have nice memories about the Maidan—the anthem, the singing, the late-night conversations around fire barrels… My team has no memories like that since we worked with human pain."
The worst thing is to be apathetic
The head of the CCL gained her first experience of work in the legal field a decade earlier, against the backdrop of tumultuous political events during the Orange Revolution. She was a third-year student at the time. "I arrived at the headquarters of Yushchenko's political party and asked if I could work as an election observer at the polling station," Oleksandra says. "On the election day, all of us stayed there until late at night, and the head of the commission even hosted me overnight because the last train to Boyarka had already left. Waking up in the morning, we turned on the TV and heard that Yanukovych had won. We both cried of injustice until the news anchor reported that people were gathering at Maidan. I packed my things and went there."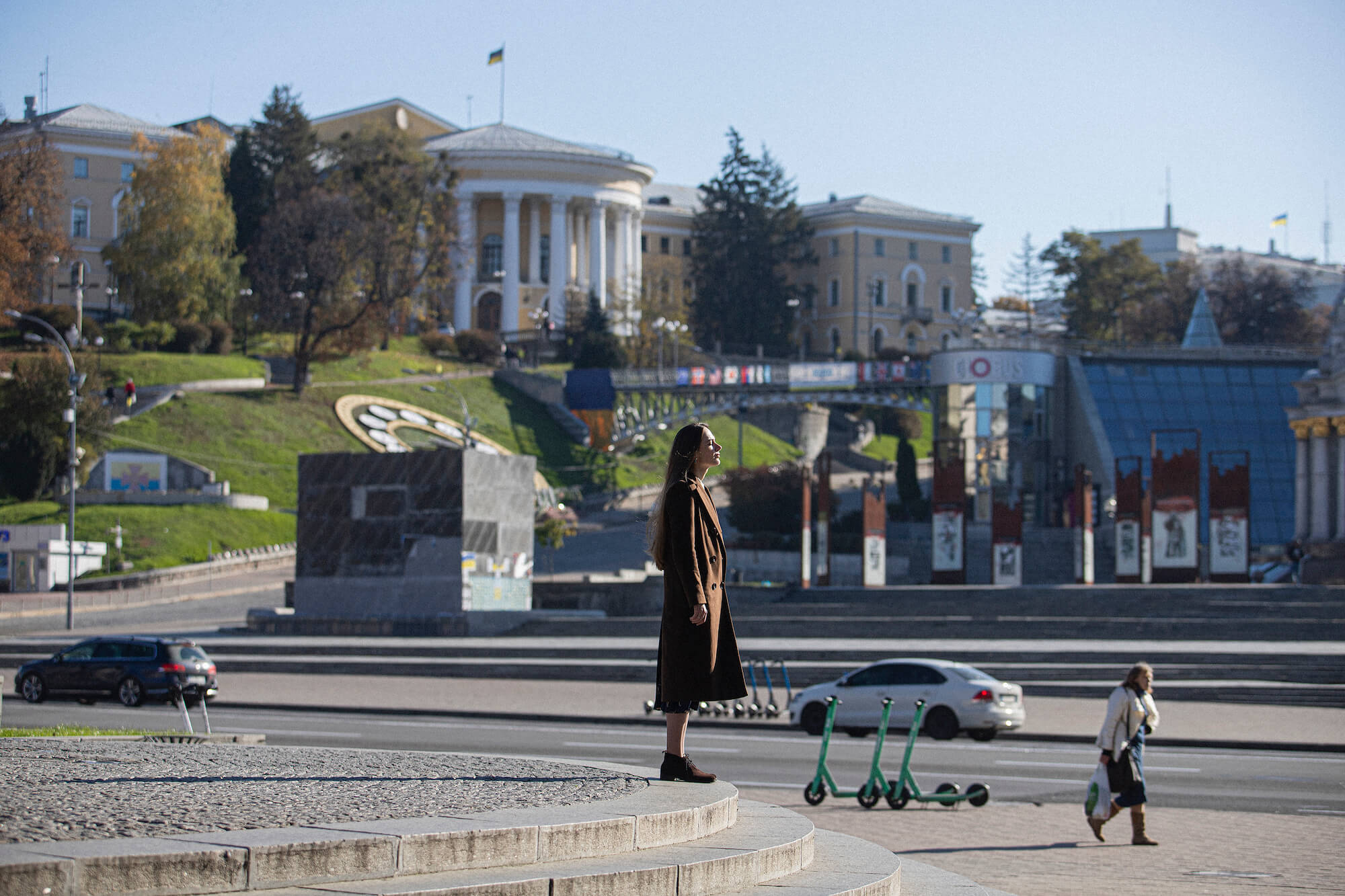 But it all started even earlier—in the town of Boyarka, where Oleksandra's parents, a teacher and a doctor, moved from Podil, one of the Kyiv neighborhoods. "Our family was destitute. But I had a happy childhood: my parents showered me with their love, and that's the most important thing for a child. I don't think I was traumatized by eating rye bread sprinkled with salt instead of sweets. From an early age, my parents instilled this idea into me: I could rely only on myself to achieve what I wanted because our family had no money or connections," Oleksandra says, adding that the only way to put her parents' guidance into practice was to study hard.
So, Oleksandra, a student of an ordinary Boyarka school and a participant of academic competitions, enrolled in the humanities lyceum in Kyiv downtown: "I would leave for school at 5:30 am every day. New things came into my life: the train station, the commuter train, the subway. At that time, Kyiv seemed too big to me."
Oleksandra Matviichuk stresses the importance of one's surroundings. It was in that lyceum that she switched to Ukrainian and met a few members of the older generation of dissidents.
Oleksandra still remembers the advice one of them gave the students: "He said that the worst thing was to be apathetic. Being like everyone else is the easiest. But it's critical to stand out and never fear being different."
But the real turning point was not even this advice but her meeting with Yevhen Sverstiuk.
It all began with Taras Shevchenko's "Kobzar." "Yevhen Sverstiuk suggested that the lyceum sent a few of its students to the recital of Shevchenko's poems," Oleksandra says. "But he set one condition: the children were supposed to choose which poem they wanted to read."
Have ill luck and captivity,
Have all those years, gone flying by,
Shattered my soul? Or have I even
Ever lived with it while living
With people in the mire, defiling
My purest soul?… And meanwhile people!
(People, of course, giving a laugh)
They say that it's unsullied still,
And young, and innocent, and holy,
And other things besides… The bastards!!
Vicious! Vicious! You have stolen
My purest, my most precious diamond,
My once unsullied, holy soul,
And mired it in a filthy swamp.
Oleksandra Matviichuk recited these poetic lines at a rehearsal at the Teacher's House—the same one that would be heavily damaged by Russian missiles on October 10, 2022.
"You are so young. Why did you choose this particular poem?" Sverstiuk wondered.
Oleksandra does not remember what she said.
This brief conversation after the recital marked the beginning of a strong friendship and sense of community. "At first, I would just attend his literary events and recite poetry from the stage," Oleksandra says. "Then I started to help him, organizing and directing the readings. He and I worked together for many years—it was my welcome respite, as I have been gravitating to art since childhood."
Thus, a narrative about a high school student choosing her career path is shaped. It tells about a particular conflict between her gravitation toward art and her parents' expectations that their child would land a lucrative job in the future. Yevhen Sverstiuk was surprised to hear that Oleksandra was not planning to apply to Karpenko-Karyi University but instead would enroll in Taras Shevchenko University law school.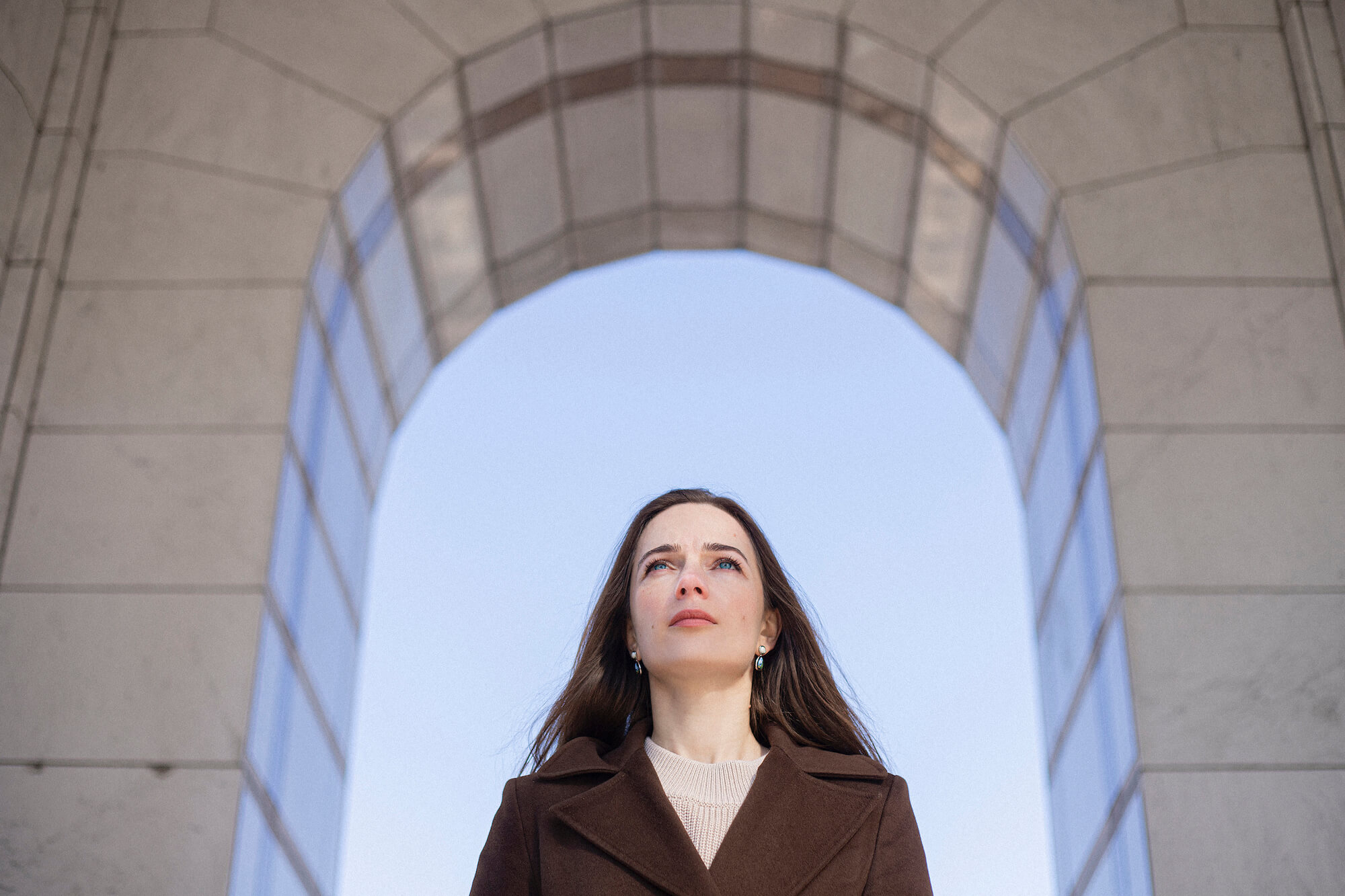 And yet, theater directing remained Oleksandra's dream. "I wanted to become a theater director," she says. "I even took a few steps toward this goal. By the way, it was a play that brought me my first national award. The lyceum submitted my work to a competition, and it won." Still, she gave up on her dream—how did that come about? "From an early age, I have enjoyed many things. I took part in physics competitions, and my favorite subject was geometry, so I could not even imagine that I would study the humanities. But studying the Ukrainian language and history sparked my interest in human rights. The stories of dissidents resonated with me. And so it happened that the fight against injustice started to interest me as much."
Oleksandra faced the real choice during the entrance exams. She applied to both directing and law schools. The qualifying exams were scheduled for the same day… "Today, I would find a way to make it to both of them. But back then, I lacked the necessary skills. So, I opted for law school. But I think that one day, I will return to my dream of becoming a theater director."
The first projects, carols, and a 'real' job
Still a student, Oleksandra Matviichuk took up several projects at once—all dealing with the youth. Why? Because she had plenty of free time at the university.
Just imagine: running Forum, a Saturday club for young people, teaching law at her high school in Boyarka for three years, chairing the student self-government at the law school, and participating in the Youth Debate Academy. Oleksandra was in her third year of studies when she started making her own money: "I didn't want my parents to foot my expenses. I wanted to be independent." An asset management company became the starting point of her career. "That's right, I started building a career," Oleksandra says. "A day job that paid my bills allowed me to continue my work toward building a civil society."
The Association of Ukrainian Banks, where Oleksandra worked, was five minutes away from Yevhen Sverstiuk's house. He often invited the young lawyer for lunch. "He would call me and say, 'Come have some borshch, Lesia,'" Oleksandra recalls. Her connection with the older generation of dissidents persisted and had several major counterpoints. "We had a tradition to celebrate Christmas together," she says. "As the youngest person at the table, I'd just sit there and listen carefully. I did carol in the choir together with others. I felt ill at ease, but the stories people told were fascinating. I feel no piety to titles or accolades: I've seen some exceptional people who said what they actually meant and lived by their word."
Their stories embodied a living tradition of resistance. "I consider this a story of humanity," Oleksandra says. "In my opinion, the idea that a person must fight for freedom and defend human dignity is organic. This is what makes us human."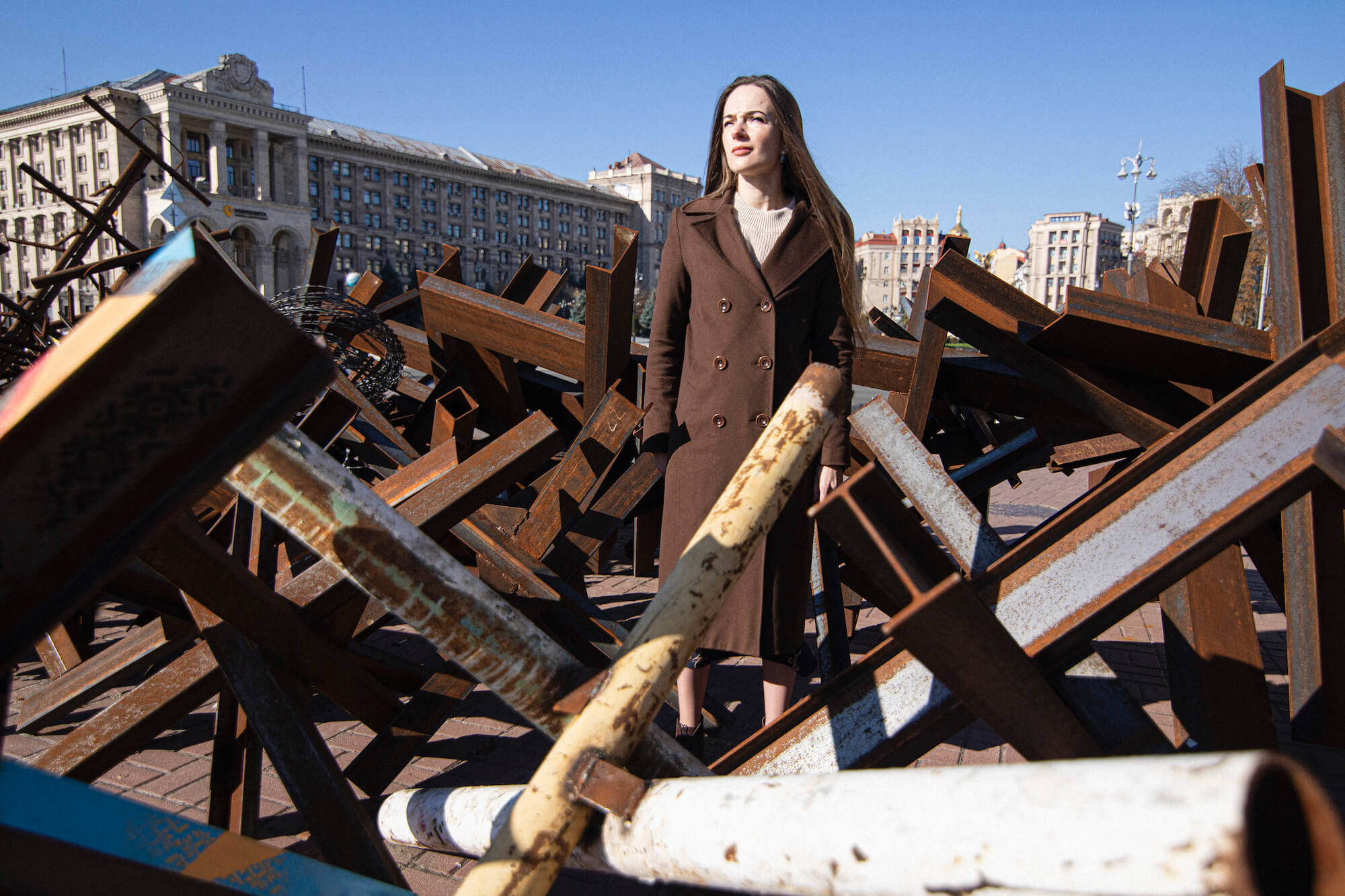 At that point, Oleksandra Matviichuk decided to learn more about defending human rights. She enrolled in the courses run by Human Rights Foundation. "That's when I learned about human rights as a legal concept," she says. "Earlier, I interpreted them only as ideas I got through communicating with dissidents or reading all kinds of materials."
Andrey Yurov, a human rights defender and member of the Youth Human Rights Movement, is a key protagonist of this narrative. He ran an international summer school in Bakhchysarai along with other coaches from different countries. "They were looking for young people interested in human rights—and they singled me out. Afterward, Andrey Yurov would find time to meet me over coffee whenever he came to town. We had long conversations. I credit him with sparking my interest in the human rights movement—and encouraging me to persist with it."
The turning point
A shift from a 'lucrative' full-time legal job to NGOs and working with civil society was an unexpected move.
Things started to change after the Center for Civil Liberties was set up in 2007, initiated by a group of chairs of the Helsinki Committees. Oleksandra Matviichuk joined the Center, juggling her new job with other ongoing projects. The main focus at the time was education and raising awareness of human rights. "It didn't take too much of my time as I've been doing similar things since my first year in law school."
Oleksandra met other human rights defenders, including Yevhen Zakharov, who suggested collaborating on a project to monitor political persecution in Ukraine. "It was easy to work on that," she says, "because I've been working with youth movements for a while. I would get verified firsthand accounts from activists across regions. You could not find anything like it on Google. I knew very well how to source information." Meanwhile, Yanukovych was elected president, a centralized vertical government was being built, and dissidents were persecuted.
Oleksandra felt the impact of the crackdown even in her day job at the Association of Ukrainian Banks. Her boss, Oleksandr Suhonyako, held a press conference to disclose the facts demonstrating that Yanukovych's 'Family' was spreading its tentacles in the banking sector. The next day, tax inspectors visited their office and slapped them with penalties for millions of hryvnias.
Matviichuk recalls that day as her bifurcation point: "I was a straight-A student and a hard worker. I could have built a brilliant career in law. But I realized I would not be able to do it in Ukraine at that time. So I went to my boss and submitted my resignation letter. My parents were quite disappointed with my decision."
Why? "When you grow up in a poor family, the question of whether your job should make you financially secure does not even come up. It goes by default—especially if you're a law school graduate. That's why for a long time, I believed that civic activism only happened in your free time after you got out of work that paid your bills. And so, for example, the Youth Debate Academy ran its camps only in the summer when I took a vacation at my day job."
Since then, the human rights defender has focused on her work as the chair of the Center for Civil Liberties. "It was my choice," Oleksandra says. "I have never regretted it."
Euromaidan SOS
On November 30, 2013, we at the Center for Civil Liberties were supposed to run a workshop for people from across Ukraine on countering the authoritarian laws passed during Yanukovych's presidency. "The parliament was working like a copy machine gone crazy, churning out the laws that were literal copies of those passed by the Russian Duma. Like the one on the police database that was a privacy threat. We planned to discuss this issue at our workshop and outline the ways to counter it."
But on November 30, it was not an alarm clock that woke Oleksandra up but a phone call from Solomiia Bobrovska. She sent her a video of the riot police beating students at Maidan. "I realized that our workshop was over before it started," Oleksandra says. "But people have already arrived. So I went there, too, and found a few team members and a group of participants, all confused. At first, we thought about going to Mykhailivska Street. But I suggested thinking like human rights defenders and trying to do something bigger."
[This story was created with the support of our readers. Support us on Patreon!]
They gradually realized there was a gap between the victims of beatings and those who could offer them legal help. This is how Euromaidan SOS was born. The initiative's first social media post was about free legal aid. Oleksandra Matviichuk recalls: "It was a gamble, as our team had no lawyers eligible to provide counsel. So, in our second post, we welcomed lawyers to cooperate with us pro bono. That was how our work became systemic."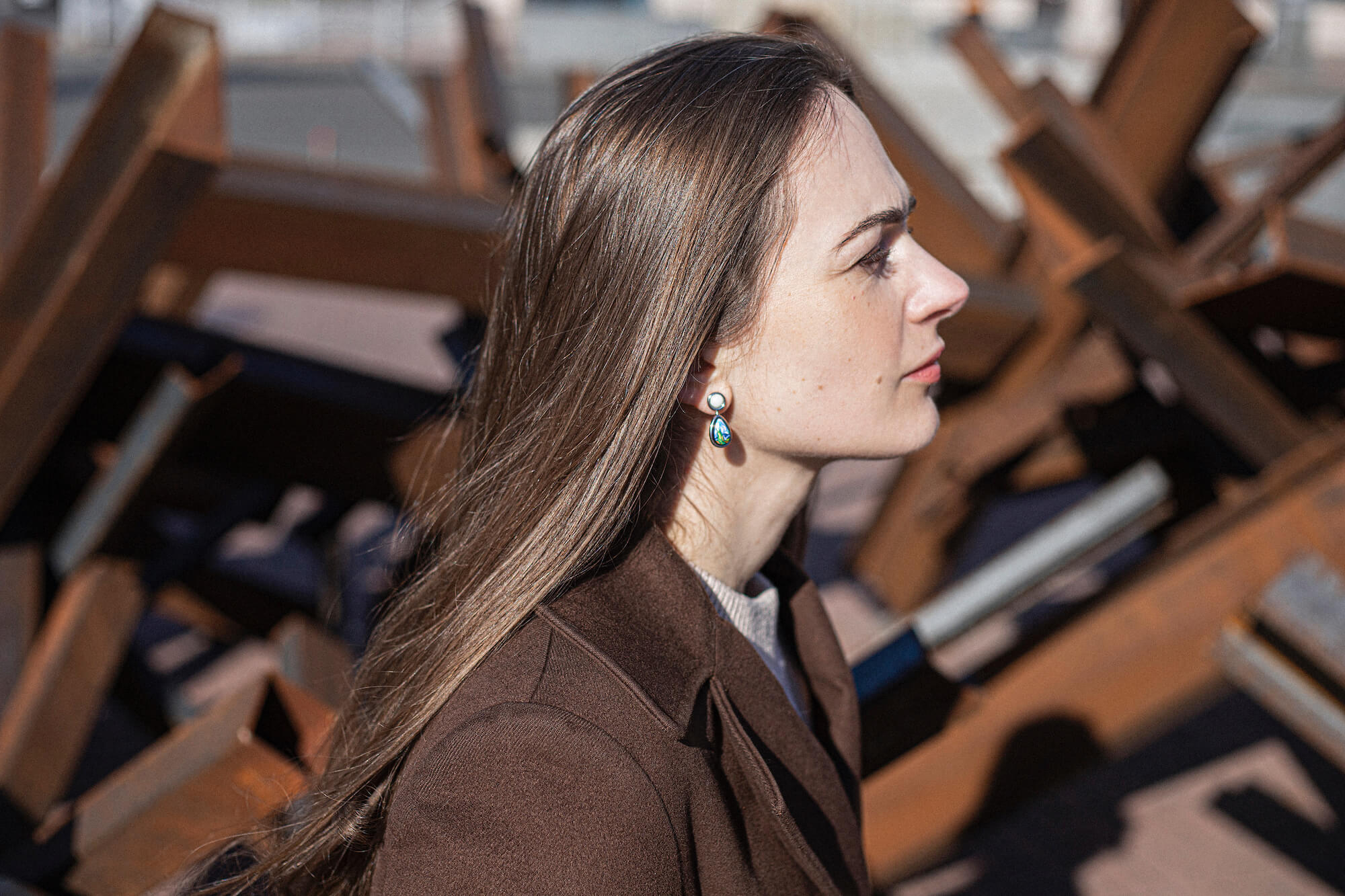 The scope of work was expanding: raising awareness, working with international organizations, searching for missing people, protecting activists in hospitals raided by the police. "But in no nightmare could I imagine what lay ahead of us," Oleksandra admits.
The next thing to come was mobile teams dispatched to Crimea and Donetsk and Luhansk regions in 2014. Oleksandra says they had to learn on the go: "For example, we ran workshops teaching people what to do if they were kidnapped or taken hostage. To better understand the military aspects of it, I turned to my colleagues from Chechnya. I asked them to kindly share their security protocols and recommendations."
The war
Since 2014, Oleksandra Matviichuk and her team have spent three years documenting Russian war crimes. "We sent folders full of documents to the OSCE, the UN, international courts… but there was no follow-up," Oleksandra says. "None of the evidence of torture and extrajudicial executions led to trials or punishments. We realized that international legal mechanisms did not work."
They needed to change their tactic. The Center scaled down the activities of its mobile teams and focused on public campaigns jointly with other human rights organizations. What does this look like in practice? To imagine and better understand it, let's recall the global Save Oleg Sentsov campaign and the rallies organized simultaneously in multiple countries. The human rights defender calls that a period of search for extra energy:
"We appealed not to an abstract Putin, but to a range of national governments, voicing specific demands. It helped us grab public attention and speak louder about Russian crimes. As a result, 35 people were released from Russian prisons in 2019—Oleg Sentsov among them."
I asked Stanislav Aseyev about the impact of public campaigns on the destiny of Ukrainian prisoners illegally detained by Russians. From May 2017 to December 2019, Stanislav was kept in the Izolyatsia concentration camp in occupied Donetsk. Several human rights organizations ran a global public campaign to release Aseyev. In his opinion, this strategy is extremely important for rescuing prisoners. "Public attention to a particular prisoner's case is often the only way to save their life or health," he says.
"The fact that the public knew about my captivity helped me pass through Izolyatsia unscathed because the torture chamber administration treated me not so harshly as the prisoners no one knew about. Ihor Kozlovskyi often stressed, too, that they stopped torturing him only after the American embassy publicized his case broadly. The publicity around my story helped me get on the prisoner swap list." How does it work? Stanislav Aseyev describes the wider context: "Moscow found itself under colossal pressure from the international community and Ukrainian organizations that pushed this topic in the West. There were a few of them, including the CCL and personally Oleksandra Matviichuk. In my opinion, the CCL is one of Europe's most powerful human rights platforms. They fully deserve their Nobel Prize."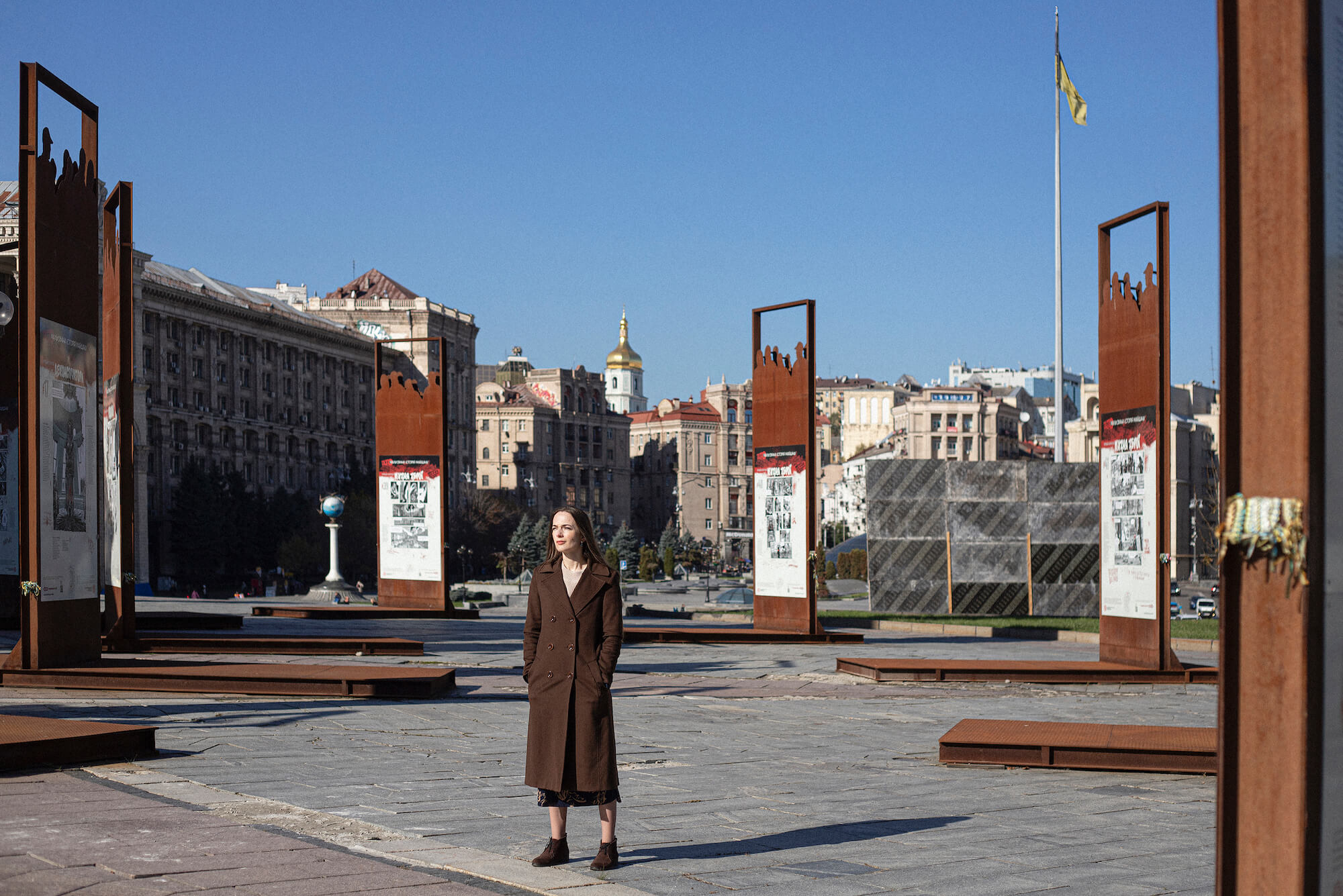 How did the lives of the human rights defenders change on February 24, 2022?
"My whole life has changed. It was a turning point," Oleksandra says. Helping people survive was one of the top-priority areas of her work in February and March 2022. In particular, her team created a map of locations where people could get help. They also set up a hotline they could call to find out how to evacuate from a certain town, where to search for housing, and where is the closest place to get medicines.
Today, the team of human rights defenders works with international entities, including governments and various organizations, as well as documents war crimes using the 'screening method' open to anyone. "We developed a simple five-question questionnaire that even a person unaware of their rights can fill out easily," Oleksandra says. "This lets us collect testimony quickly and have our specialists follow up with the witnesses later. At the same time, since mid-March, our team, together with the Ukrainian Helsinki Human Rights Union and the Kharkiv Human Rights Protection Group, has been documenting crimes observing all the international standards. We have a wide regional network, so we don't copy information from open sources but document cases firsthand."
The human rights defenders pass this information to the Independent International Commission of Inquiry on Ukraine, established by the UN Human Rights Council, as well as to the International Criminal Court and other organizations working with the issue of punishment for war crimes.
Disappointment?
However, international court proceedings are very lengthy. The lay audience would find this trajectory way too misshaped. How to deal with this?
"Not all war crimes can be punished by the international judiciary. For example, the International Criminal Court usually considers only a limited number of cases—a few most significant ones. National courts could consider some of those crimes. But they are overwhelmed. As far as I remember, the Prosecutor General's office talked about 34 thousand criminal proceedings on war crimes. No one can process this kind of volume," Oleksandra admits.
This challenge generates an accountability gap, i.e., a gap in justice. So who shall guarantee justice to all victims? This question concerns the cases dating back to the Maidan of 2013-2014, the war since 2014, and the full-scale invasion of 2022.
Is it all in vain? According to Oleksandra Matviichuk, it's not: "You can say that all this makes no sense. But you can also say that the law is progressing. The first international tribunals were established after 1945—quite recently. So, we in Ukraine might as well come up with something else. We need new international mechanisms that will work for Ukraine and other countries to guarantee justice."
Oleksandra Matviichuk considers it critical to give the name back to every victim, say it out loud, and talk not about thousands of criminal cases but real people and their destinies.
"There will be no peace in our region unless war crimes are punished, one by one. Russia went unpunished for its crimes in Chechnya, Georgia, Mali, Libya, and Syria. Russians believe they can do whatever they want. Our pain is a consequence of this deeply entrenched perception of impunity."
The Nobel Prize
Many people were outraged when the Nobel Peace Prize was awarded to the Center for Civil Liberties, the Belarusian human rights defender Ales Bialiatski, and the Russian organization, Memorial. They found it particularly infuriating that the award committee mentioned human rights defenders from Ukraine, Belarus, and Russia all in one sentence.
However, Vakhtang Kipiani, a historian and journalist now defending Ukraine in the ranks of the Armed Forces, finds this outrage unfair: "The society's response and the pathetic government's reaction show how people shape their attitude to things knowing nothing about them. They go for the most vulgar, immature reactions—pain, fear, anger, laughter. To some extent, Ukrainian society is not worthy of the Nobel Prize awarded to Lesia Matviichuk and her team. In the past, Ukrainians were thrilled when the Nobel Prizes were awarded to Agnon or Olga Tokarchuk, the authors linked to Ukraine in this or that way. But we failed to truly appreciate our first Ukrainian Nobel Prize, a historical event. We will surely get a second Nobel Prize someday, but the first one will never be awarded again."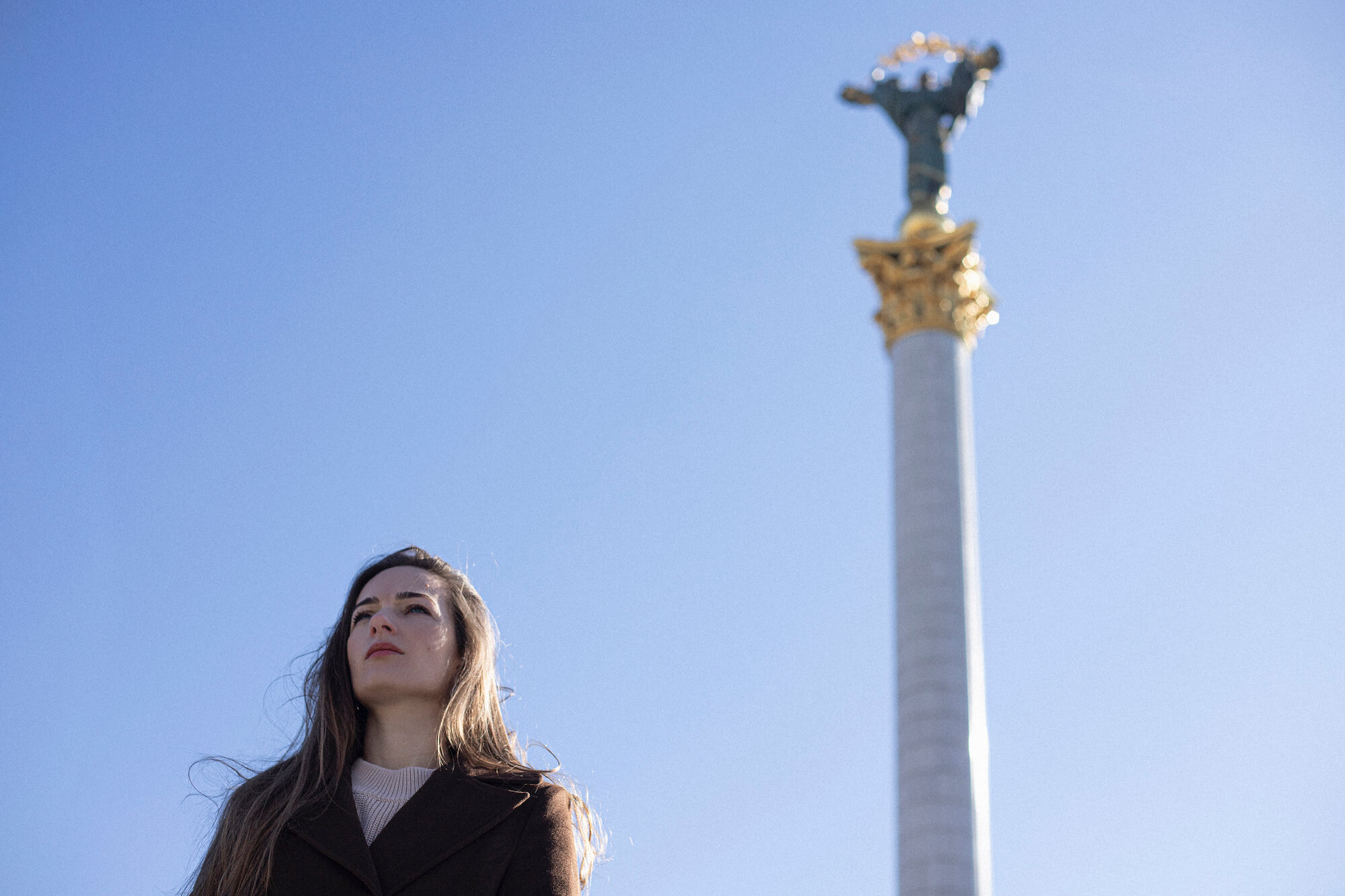 Vakhtang Kipiani reflects on Ukrainian society's ingratitude: "Our society does not appreciate its very own dissidents who defended human rights in the hardest of times. Neither does it appreciate contemporary human rights defenders who advocate for legal victories in our future—and we will not win this war without them. Yes, you can liberate a village or reach the border, but it is the punishment of the criminals that will be the genuine satisfaction. The Center for Civil Liberties deserves respect for its work, that's why the public outcry angered me."
But what should be your attitude toward the awarding of the Nobel Prize to the Belarusian and Russian human rights defenders? According to Vakhtang Kipiani, in this case, one cannot say that Russia and Belarus share the Nobel Prize with Ukraine. "Ales Bialiatski and Memorial do not represent their respective countries," he says. "The Belarusian human rights defender is imprisoned. He's punished for his activities by his own government he's in opposition to. It's not Belarus as it is now—it's the one it is supposed to be. And Memorial is the first non-governmental organization in the USSR that opened people's eyes to the essence of the Stalinist regime. I mean, they opened access not to personal accounts but to documents. They disclosed the memory of the terrible episodes of the Soviet past.
In particular, I was the one to receive the death lists of Sandarmokh from Memorial and to bring them from St. Petersburg to Kyiv. I got them from Veniamin Iofe. He opened a folder of documents from the Federal Security Service, which he had just received, and handed me a pile of papers, saying: "Ukrainians will find this interesting." I published them. It was from that article that the Krushelnytsky family learned that five of their relatives had been shot in Sandarmokh. You could find documents like that only in Russia. Their discovery and publication made a huge difference. Memorial does not represent Putin's Russia—it's either Russia that no longer exists or Russia that does not exist yet."
So how did it happen? How did Oleksandra Matviichuk learn she and her team were awarded the Nobel Prize?
"They didn't call me personally. They got through to my assistant and said they wanted to discuss our educational projects. She redirected the call to our executive director, Oleksandra Romantsova, who then called me and broke the news about the Nobel Prize. At first, I thought it was a prank—I just found it hard to believe. But the phone wouldn't stop ringing, and that's when I realized it really happened."
Her joy was short-lived, followed by a sense of responsibility. "I thought I had to work as hard as possible to leverage all the opportunities that the Nobel Peace Prize opened up. I realized it was critical to draw attention to the value aspect of this war."
Oleksandra does not plan to celebrate, though. The war is raging, and the fight cannot be put on pause—it is a marathon with no time to stop and rejoice. One must wait until victory comes.
A grown-up?
Why is the generation of thirty-year-olds so productive and active? "We've lived most of our lives in freedom, that's why," Oleksandra says. "We have no fear. The younger generation feels it even more acutely—and they have no fear, either."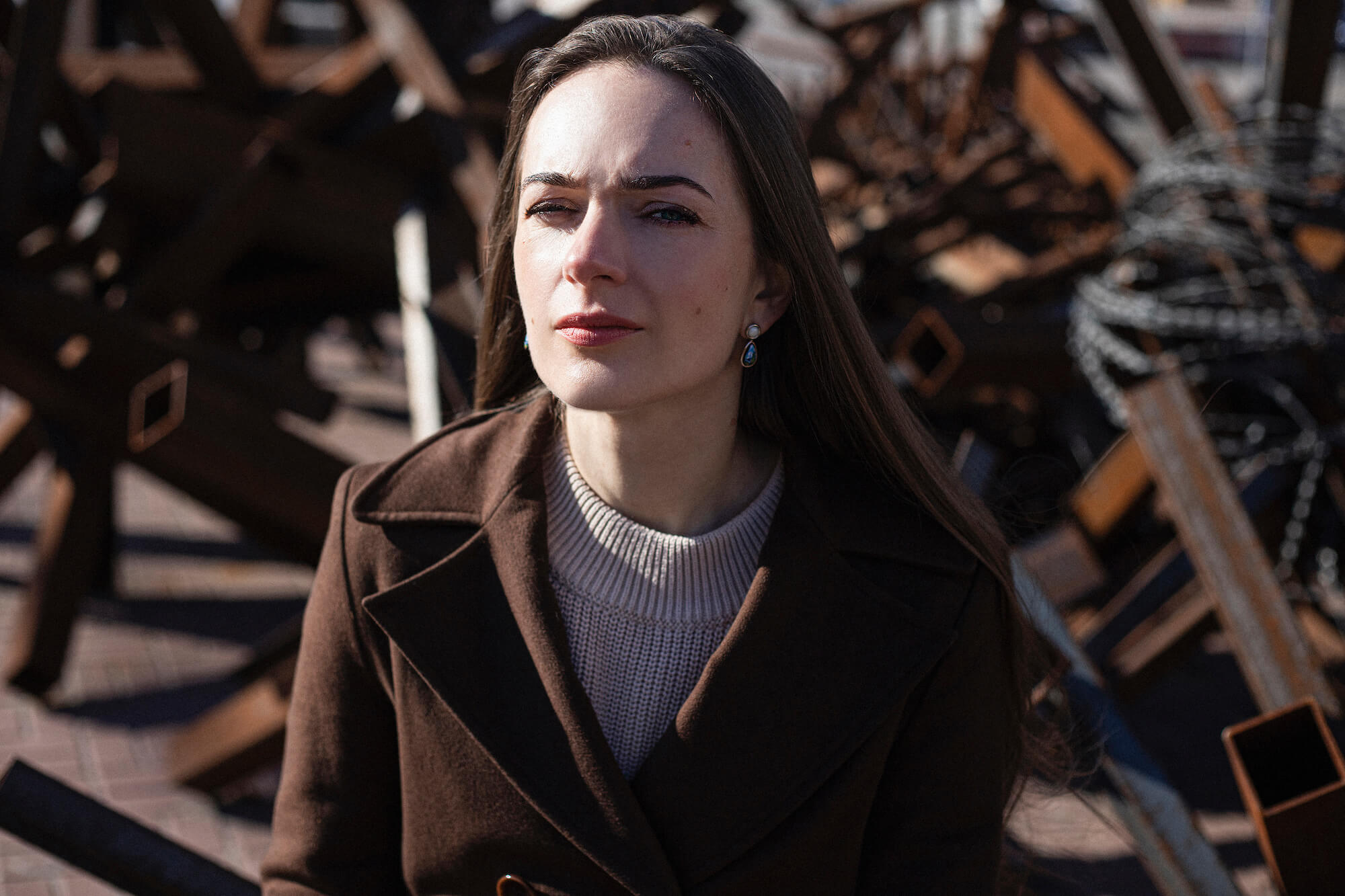 The human rights defender dreams of maintaining the awareness of what is truly important—to be human. And to let go of everything that's not: "In August, I was physically exhausted. I could not even get out of bed. It was not mere fatigue. I don't have any recipes for recovery. I can only recommend making self-care part of your daily routine."
Oleksandra Matviichuk grew up and shaped her character among our elders—the Ukrainian dissidents. She says she had a sense of belonging and felt respected.
"I've always felt that I'm standing on the shoulders of my predecessors. I knew I could come to them for advice. But only now do I realize that I've grown up and know exactly what I'm supposed to do. I feel I no longer need to test my decisions. I am confident now."
Story by Iryna Slavinska.
Photo by Julia Weber.
Translated by Hanna Leliv.