[This text opens a series of stories under a general title "War Trajectory". A trajectory is a trace, most often invisible, made by a moving body. The war which goes on in the east of Ukraine also leaves its trace in our lives, changing destinies or driving out of homes. War trajectory is destructive. To survive, Ukrainians must be strong and ready to give a helping hand to those in need, remembering that we might have different personal problems, but one shared grief.]
Support us on Patreon!
***
15 years ago the population of Desiatyny village in Zhytomyr region was slightly above a hundred. Today the village community hardly has 30 residents. It could have disappeared from the map of Ukraine at all, if it wasn't for Olexandr Kononov.
For more than three months he has been tortured in the "LPR" cellar prisons, but his spirit didn't break — he's bought one of long abandoned huts in Desiatyny, brought the goats and sheep he always liked — and now is rebuilding not only his life but the life of the local community.
Middle of nowhere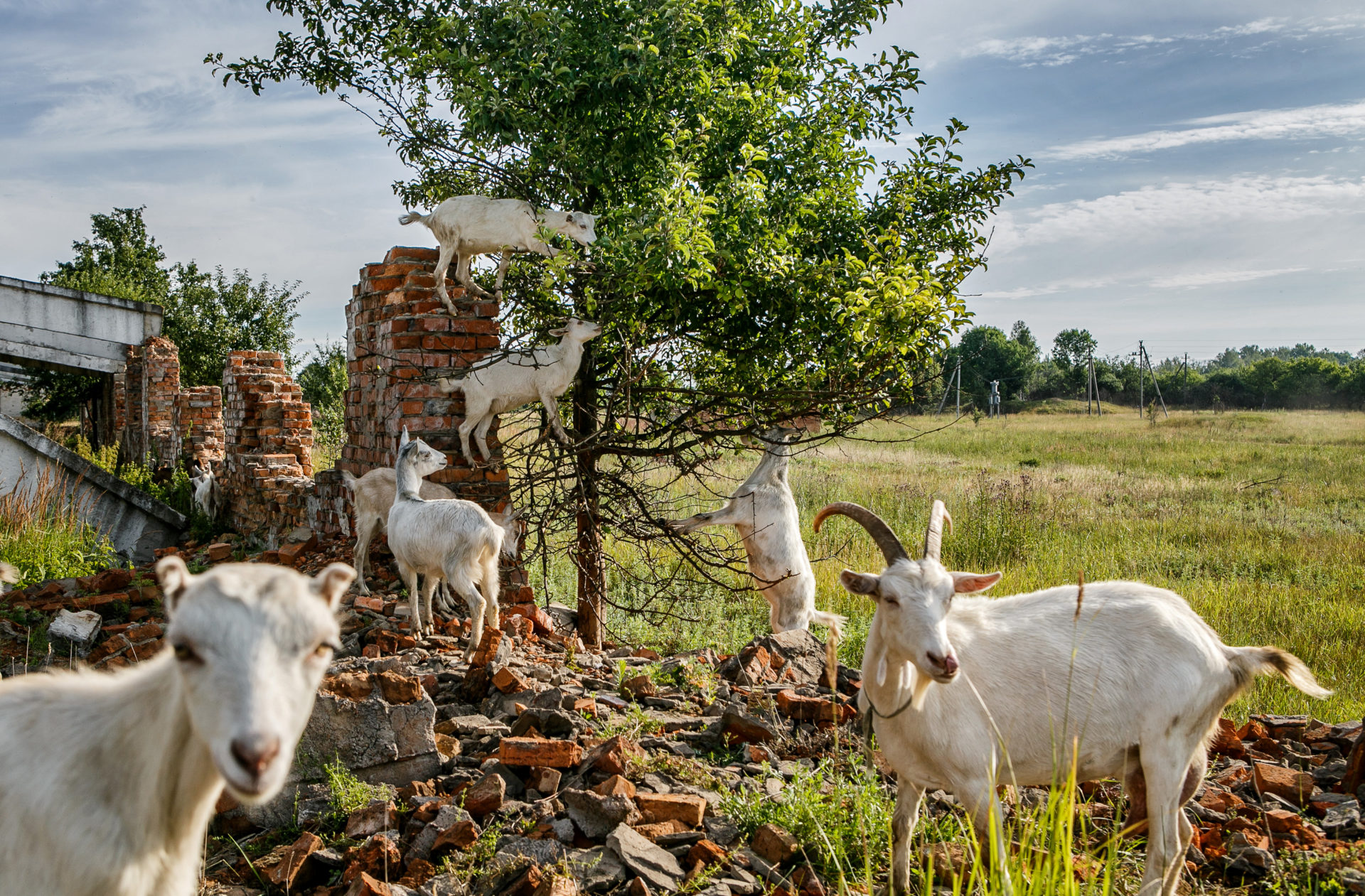 A herd of goats is wandering among ruined brick walls. The skeleton of a former farm, lost in deep forests of Zhytomyr region reminds that life had once been blooming in these thick forests.
It's difficult to find a road to Deasiatyny even with a GPS SatNav. Cars are really rare here, and these roads are owned by storks and beavers.
— "Bela-bela, bala-bala!" — the shepherd is calling his herd out from the ruins of the cowshed.
His strange call is echoing in the tombstones of a local cemetery and disappears in surrounding dense greenery.
— "Baaah, maaaaah" — the cattle replies reluctantly, but follows obediently.
The local goatsman's name is Oleksandr Kononov. He was an alien in Desiatyny, moved in last December from Sieverodonetsk in Luhansk region, by invitation of a friend, volunteer activist. They have decided to start a goat farm and cheese production.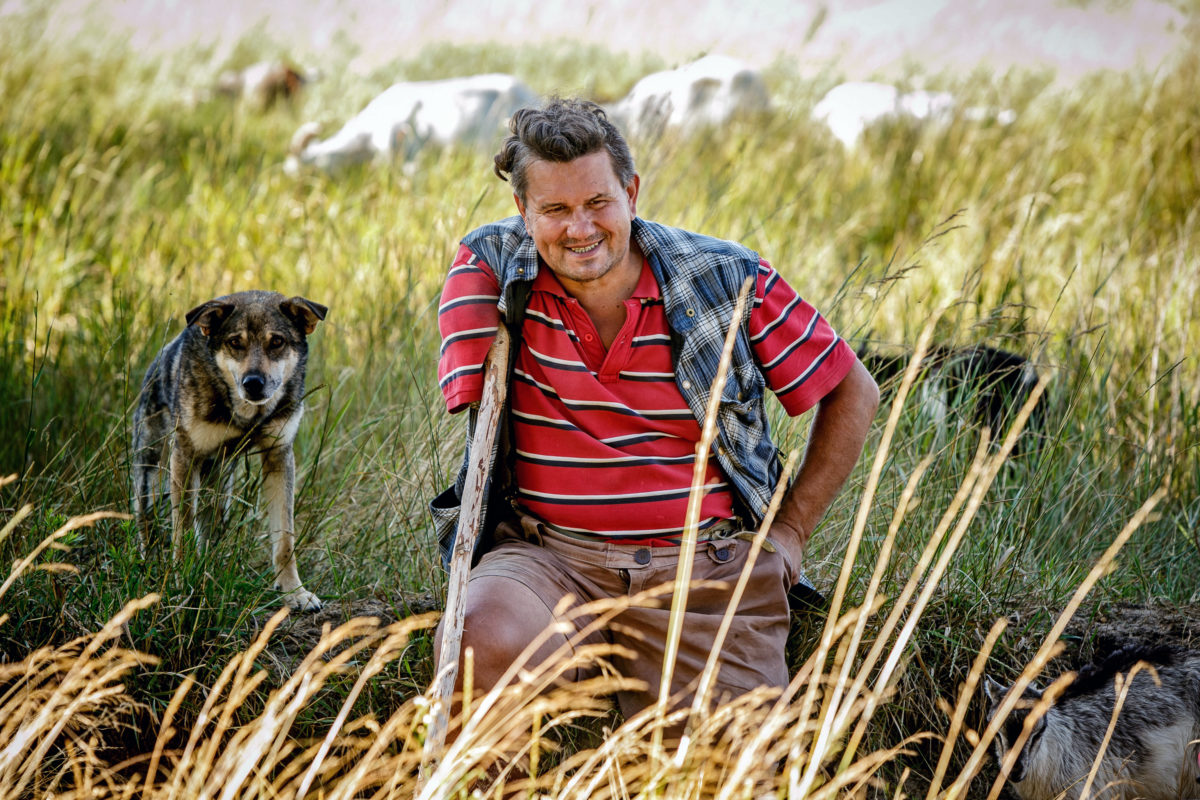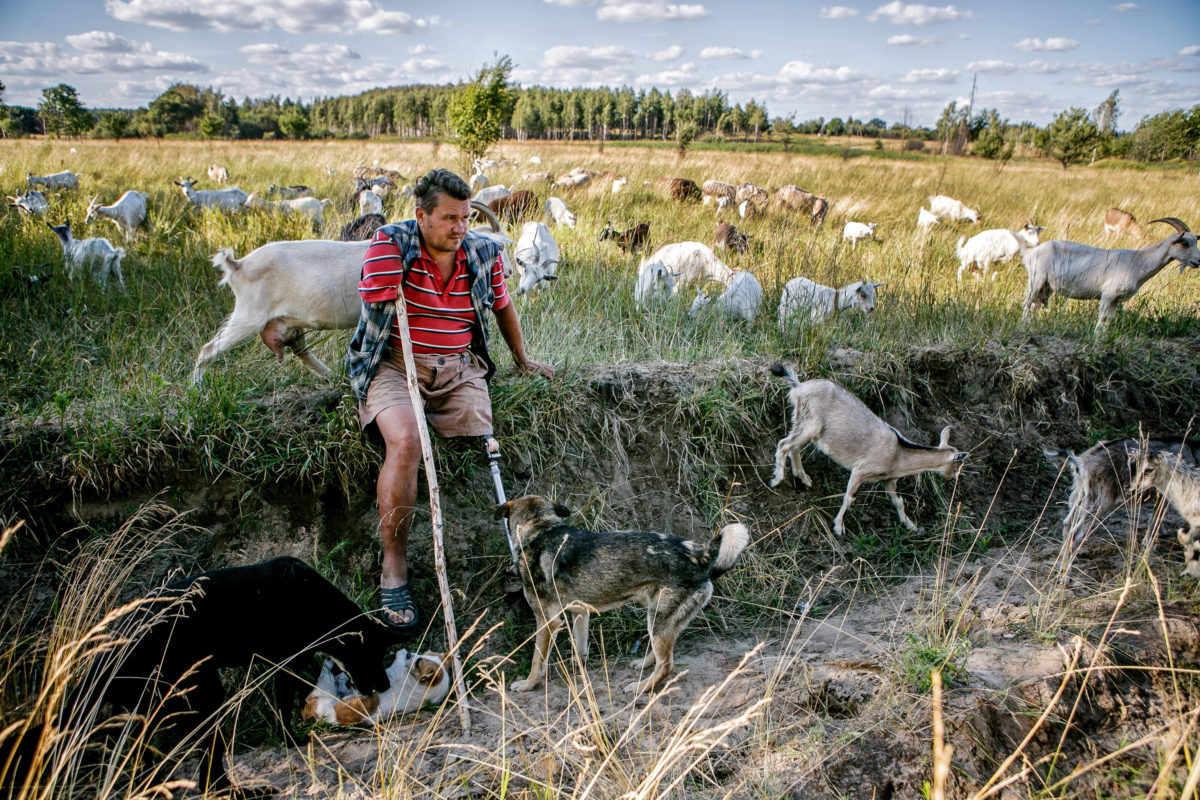 Oleksandr leans on a long staff — not for a fancy look, but he's just disabled and has no right arm and left leg. The man had lost his limbs 11 years ago at a metal factory. But he didn't despair and didn't lose the will to live
Oleksandr leans on a long staff — not for a fancy look, but he's just disabled and has no right arm and left leg. The man had lost his limbs 11 years ago at a metal factory. But he didn't despair and didn't lose the will to live.
"Being stuck in a "Bermuda triangle" of kitchen, toilet and bed is not for me," tells he about his creed, crossing a dewy meadow on a prosthetic leg.
A few years ago Oleksandr could not even have imagined that he'll become a farmer. But the war that came to Luhansk has driven him out of home and made him find a new destiny 900 kilometers from his native places.
— "War has made me even stronger", reassures us the herdsman from the East.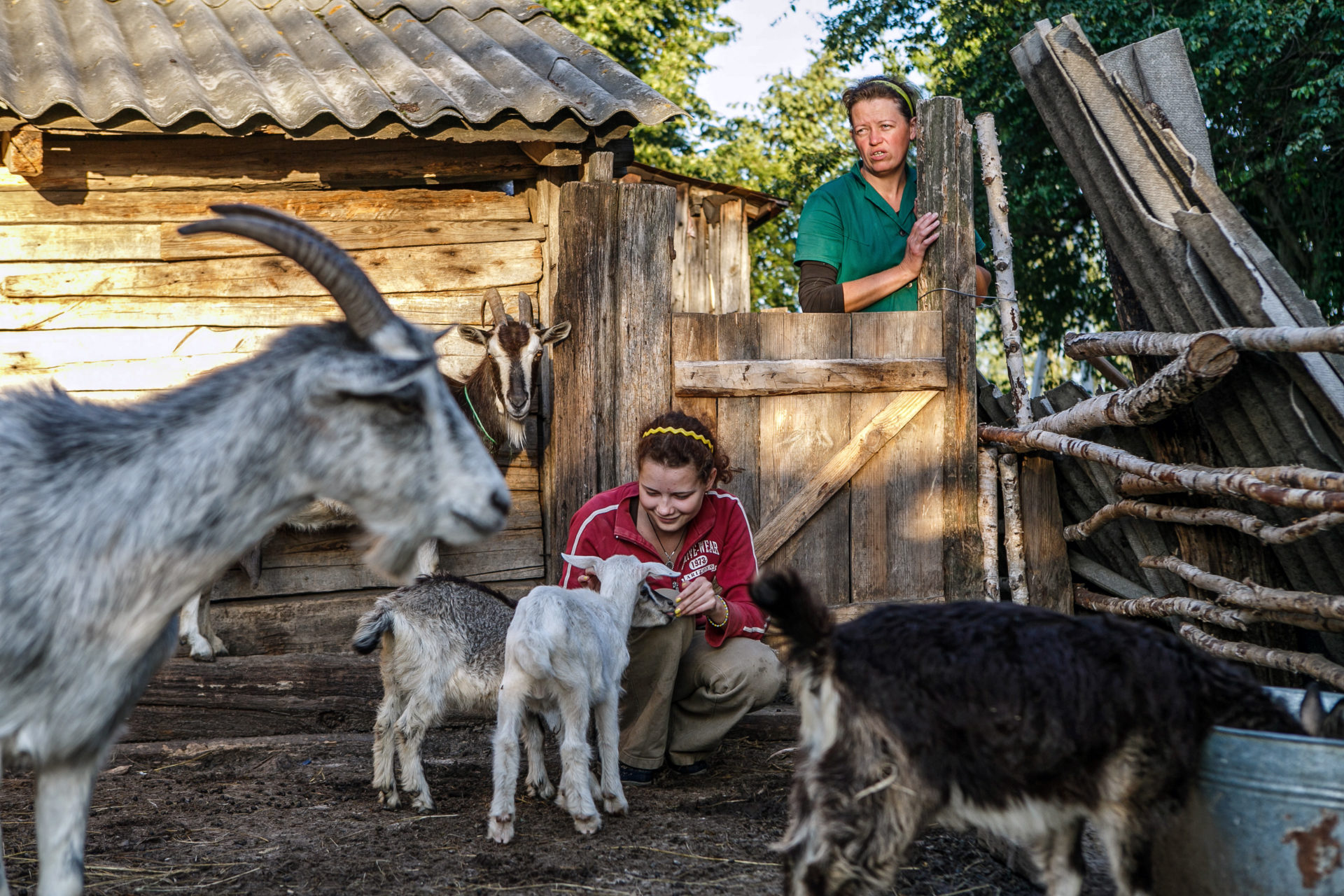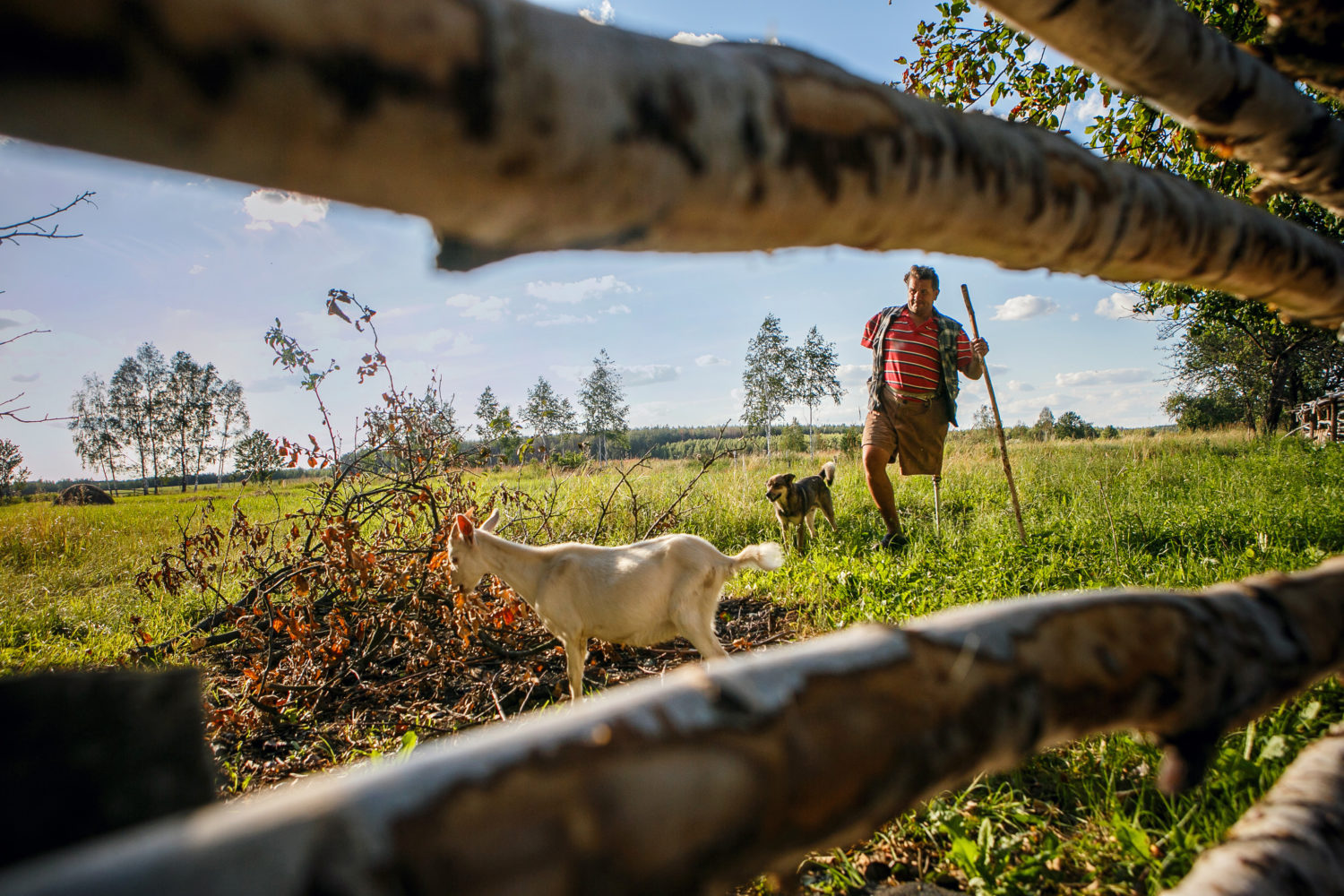 Another family from Luhansk oblast has followed Kononov to Zhytomyr region. The Donbas diaspora in Desiatyny has grown to five persons. First the locals were treating the outsiders with distrust, as this forest folk is extremely conservative. But Kononov has slowly been teaching them political information. He is well able to teach them to love the Motherland.
— "Looks like I am a "separatist", came here and made by DPR — Desiatyny People's Republic", he laughs. "But listen, half of the locals are pro-Putin. My neighbour is saying: 'Russia went to the space!' I tell him: 'Firstly, it wasn't Russia, but USSR. Secondly, where are you living, in Zhytomyr region, right? Do you know where academician Koroliov was born? You don't? So I'll tell you, in Zhytomyr!'"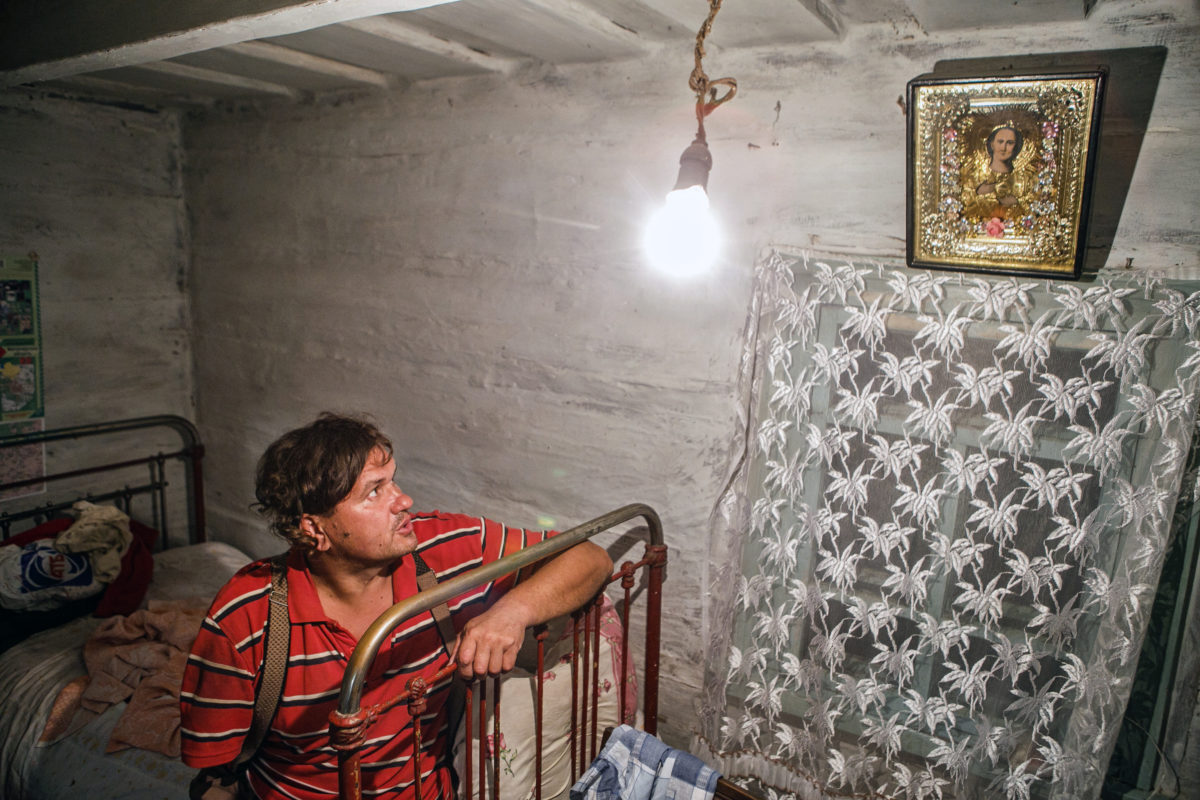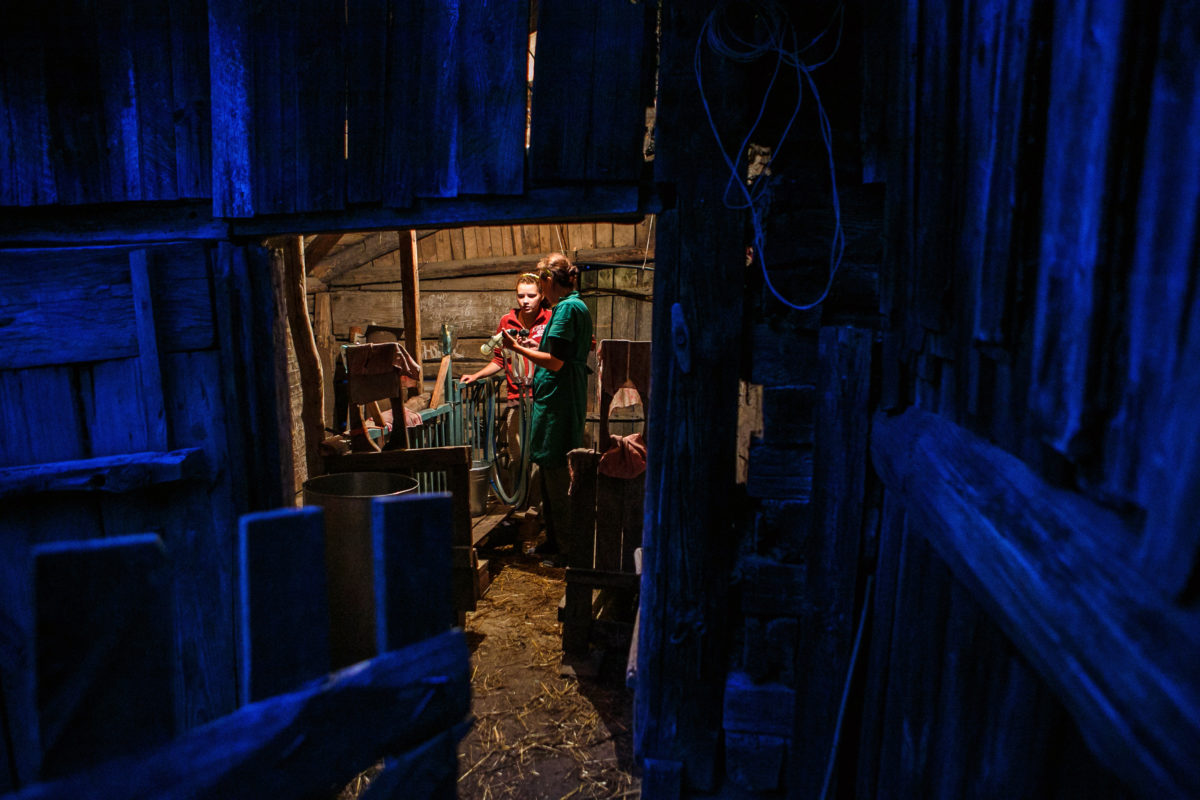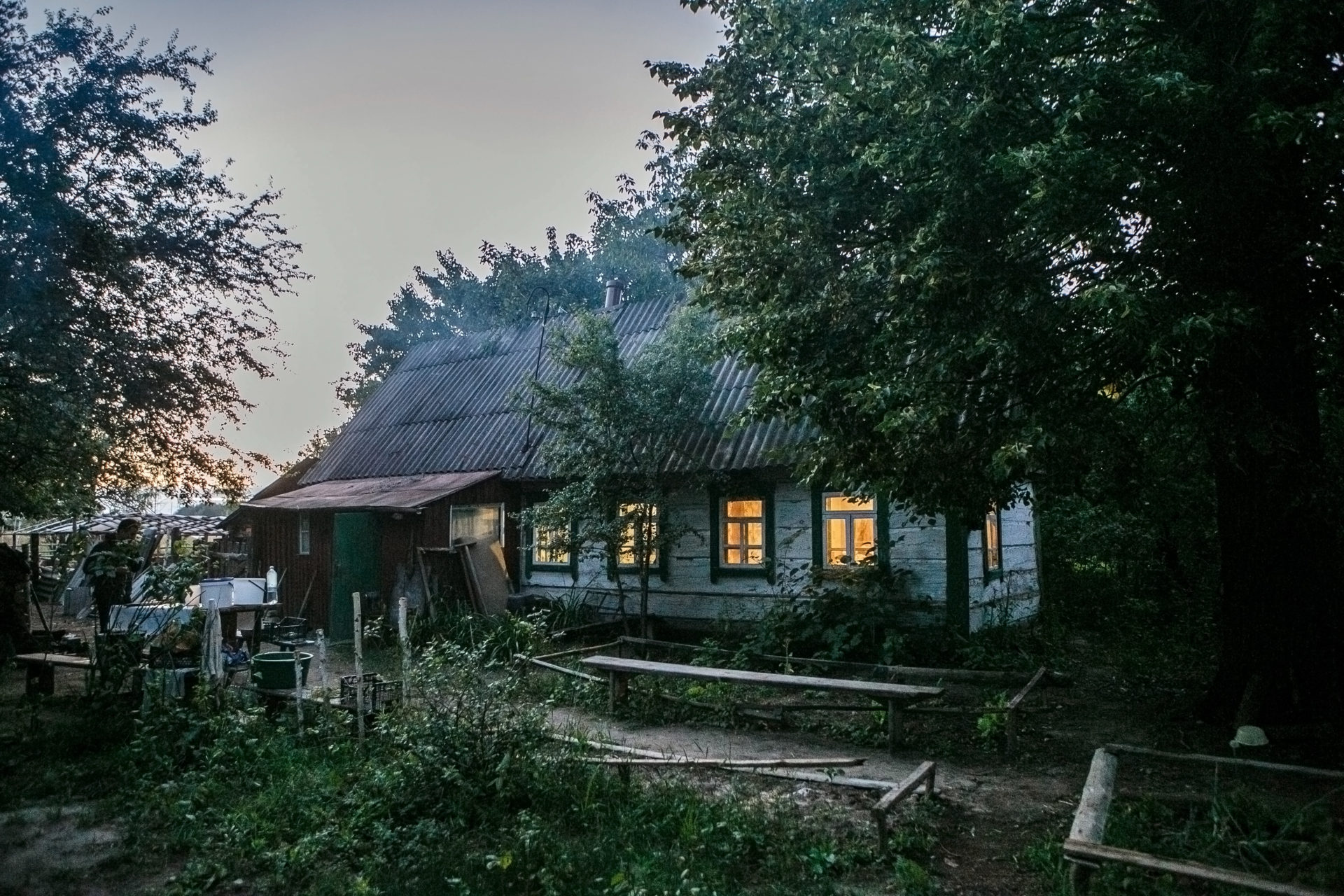 Captivity
A one-legged goatsman is sitting on a hillside. Sun glitters on his metal prosthetics. It seems like Oleksandr is just taking some tan. Smiling, he doesn't look helpless at all. Ans his cheerfulness is cast even onto dogs — they keep waving their tails, running around the master.
— "That's my Badia Aidarivna", — he's patting a black sheepdog. — "Her last name is Boyova (*Combat). Her mother was a K9 minesweeper in Aidar batallion."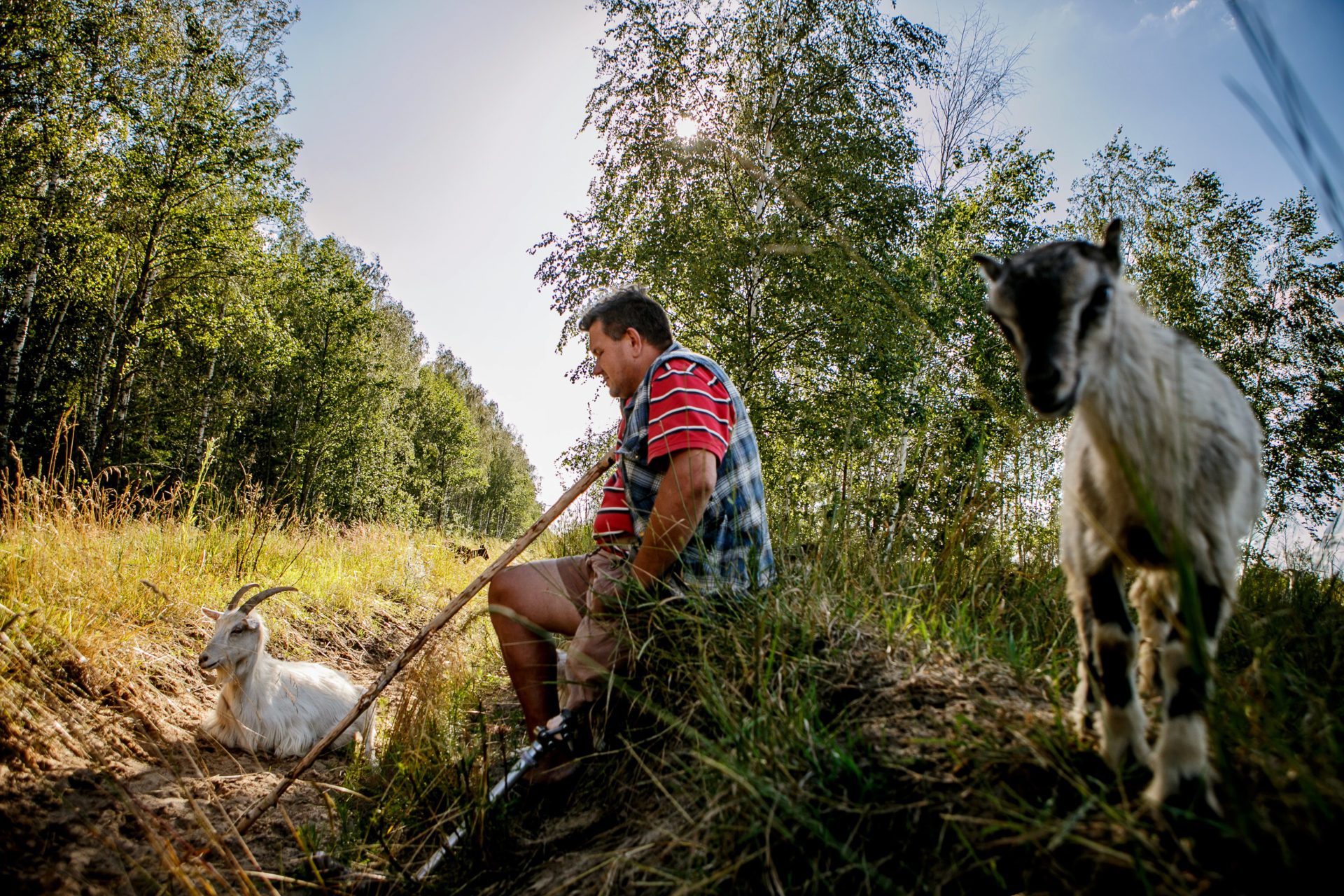 Before the war Oleksandr Kononov was a civil activist in the "Legal awareness for drivers" campaign. When fighting started around Sieverodonetsk, he began to help the Aidar fighters: brought water, food, medicines and household chemicals to Polovynkyno, Shchastia and Starobielsk.
One of the trips however was unfortunate — the volunteers' bus has mistakenly entered the separatists' roadblock in Yuvileyne.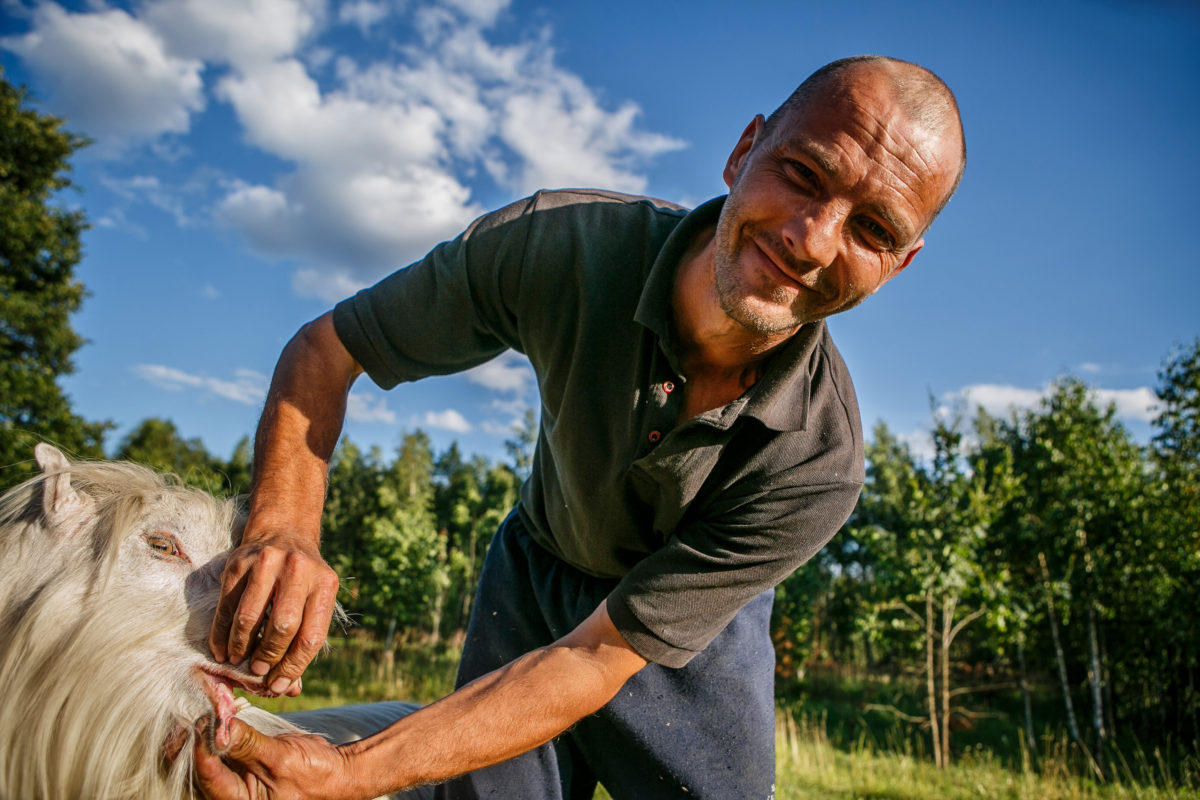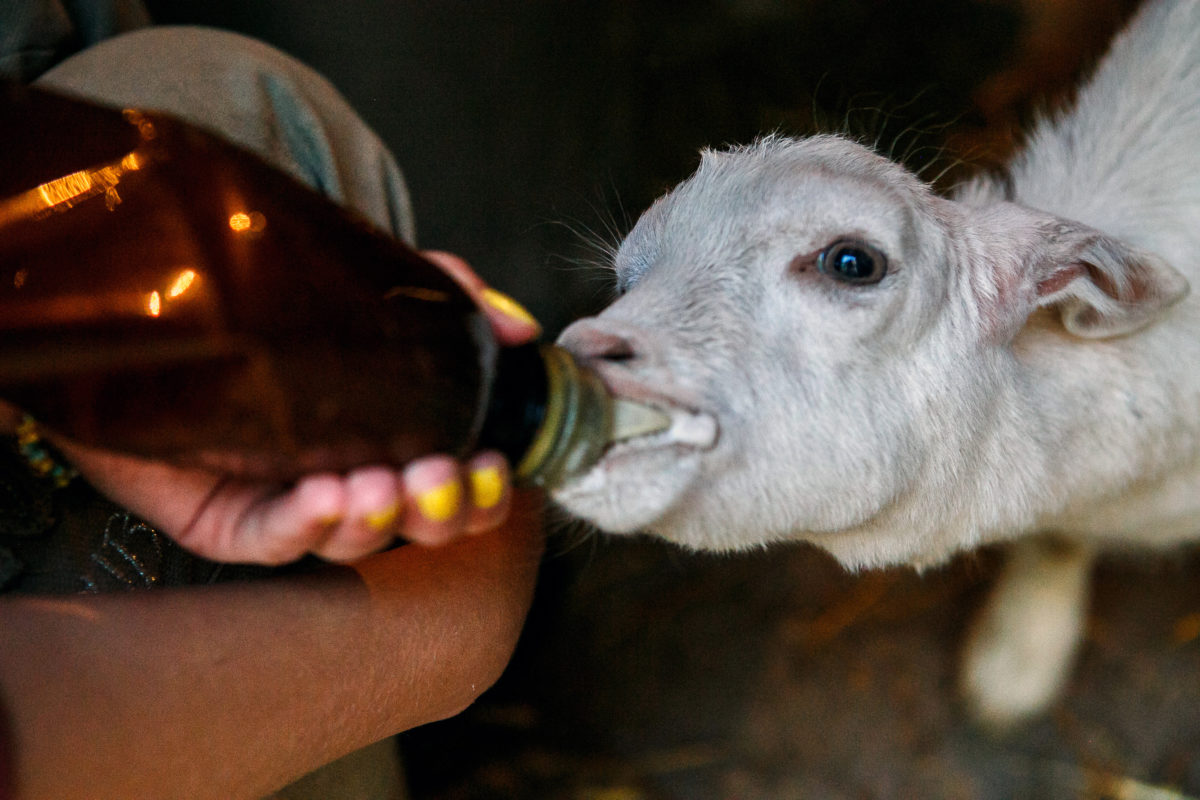 Oleksandr has spent 98 days in captivity.
The man is raising his shirt, showing a scar on the shoulder. He's surprisingly calm when talking about imprisonment and tortures.
— "There was one 'comrade' who came to the roadblock," — remembers Kononov. — "Turns out it was Lytvyn Serhii Anatoliiovych, he has later become the 'minister' of agriculture and food in LPR. Interrogated me quite harshly. He gets a handgun, points to my forehead and pulls the trigger — and silence. Then he loads the magazine and puts the pistol to my head — then suddenly points to the side and shoots. Several times like that. One of the bullets has scratched my shoulder."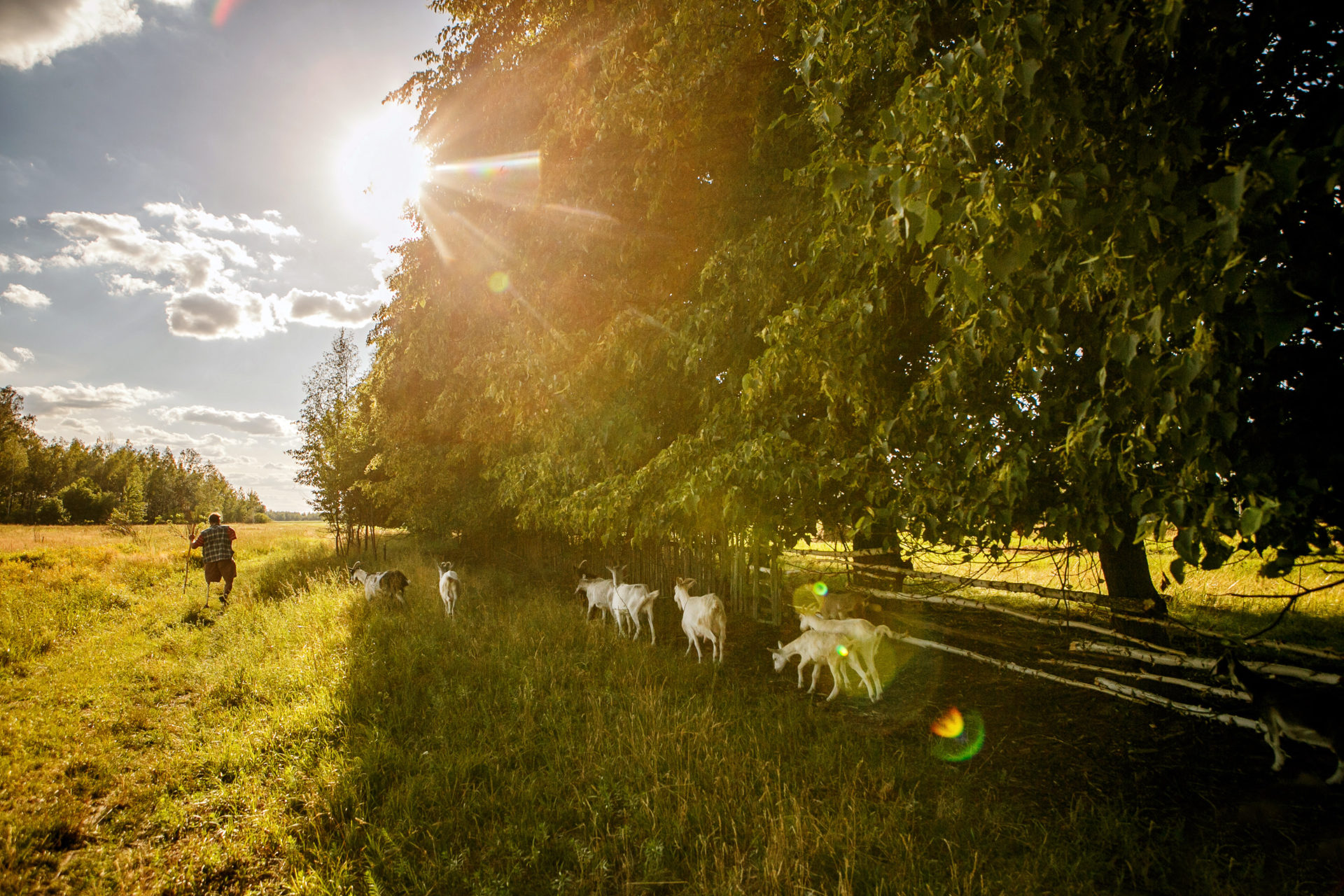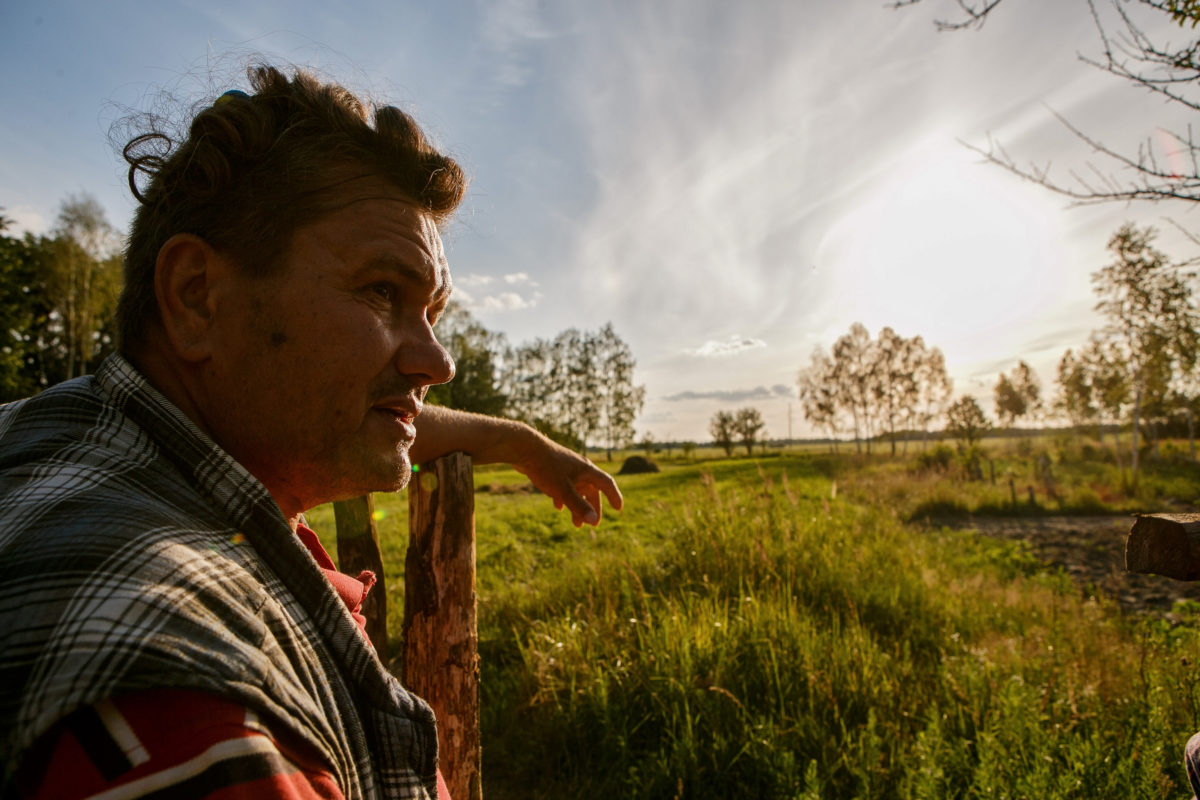 For the first month he was kept as "extremely dangerous" in Luhansk jail. Next he was kept in the prison cellar of the regional administration and later — in the new "Commandant's office". 40 persons — men and women together — stayed in a small unventilated cell. Oleksandr has met really different people there: coalmine managers, art gallery curator, convicts and brokers… Many people were imprisoned on their neighbours squeals.
— "They were beating the intel out from me. But what do I know? It wasn't a secret. So what was the point? And I thought: if they didn't kill me immediately, then sooner or later will let me go."
So it happened. After almost a hundred days in captivity he, seven soldiers and three civil prisoners of war were released as part of the exchange.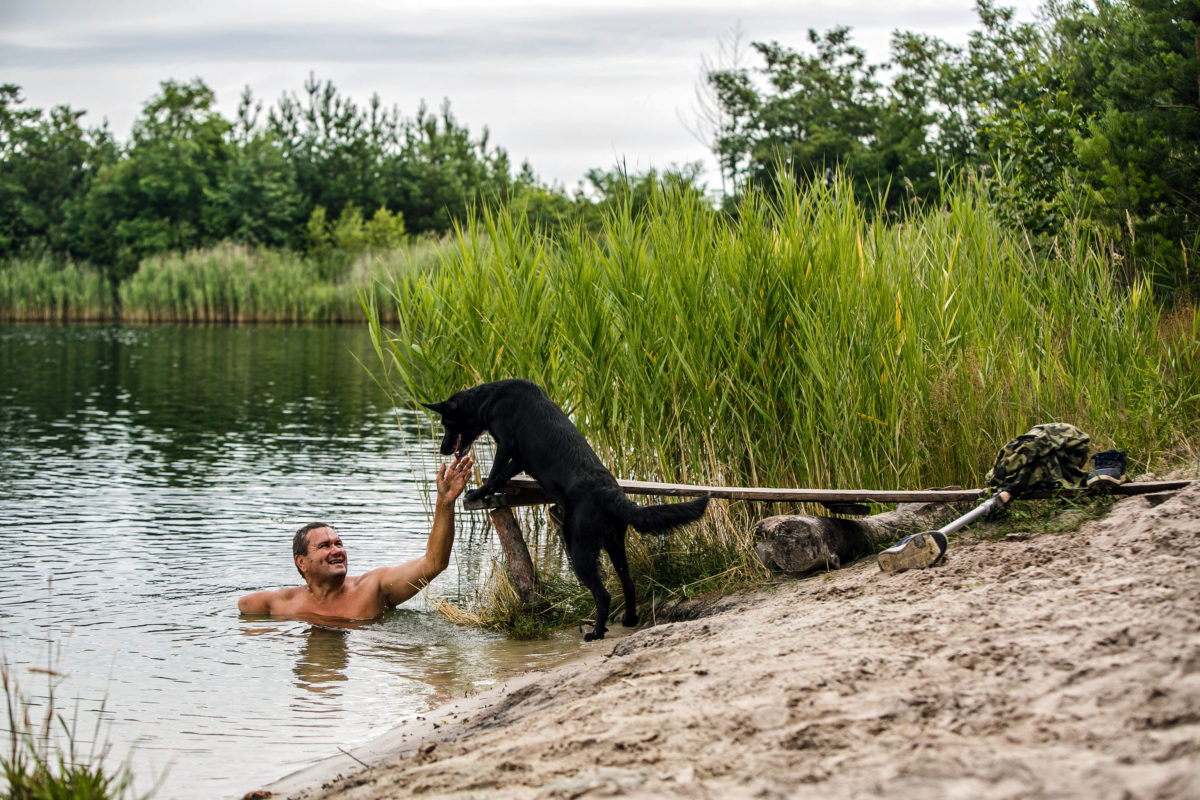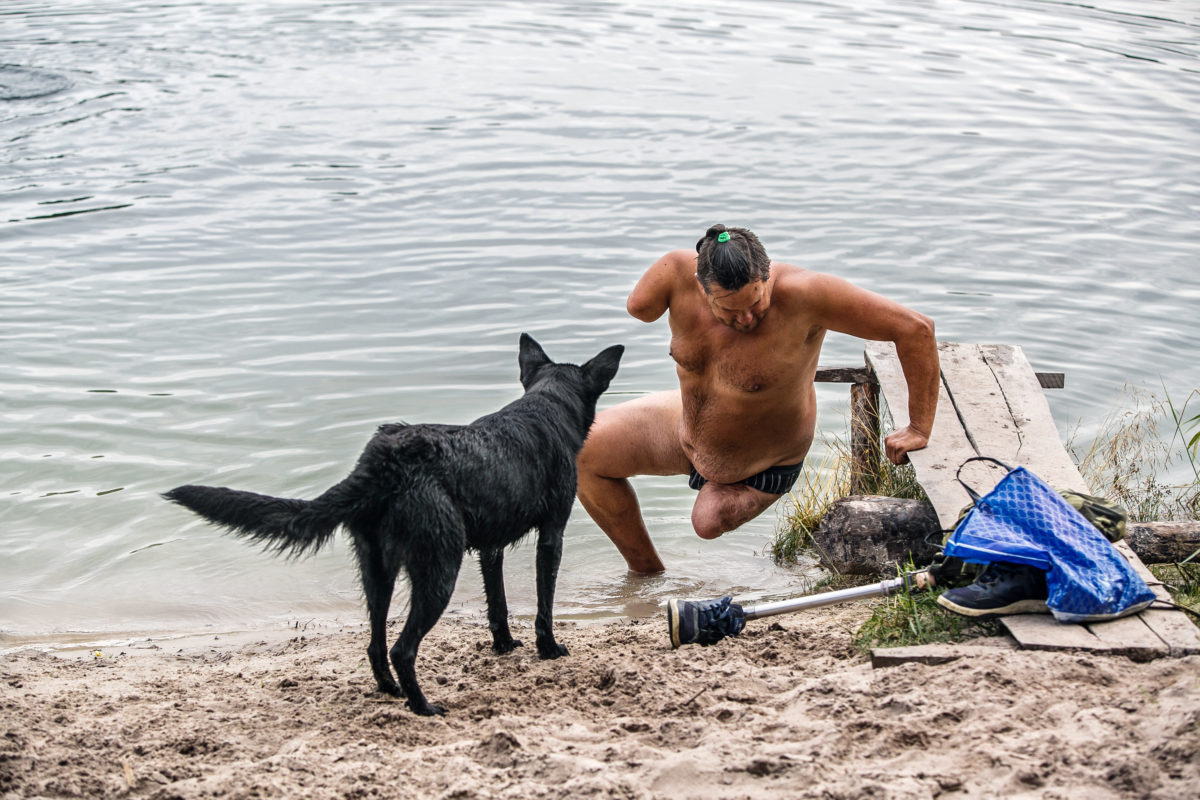 By that time Ukrainian flags have already been flying over Sieverodonetsk for three months. But still, Kononov didn't want to stay there. He took nine goats, five sheep and two lambs — and moved to the forests of Zhytomyr region.
— "How come?" I ask.
— "Well, how shall I put it…?!" — I can see he can hardly find a decent word. — "Nothing has changed much in Sieverodonetsk. Most locals don't give a f…k whether to attack or to retreat. It doesn't matter to them whose flags fly over the houses. They will obediently fulfil whatever you tell them. I can't live like that. My friends have helped me load all my stuff in a van — and off we went, following the dream!"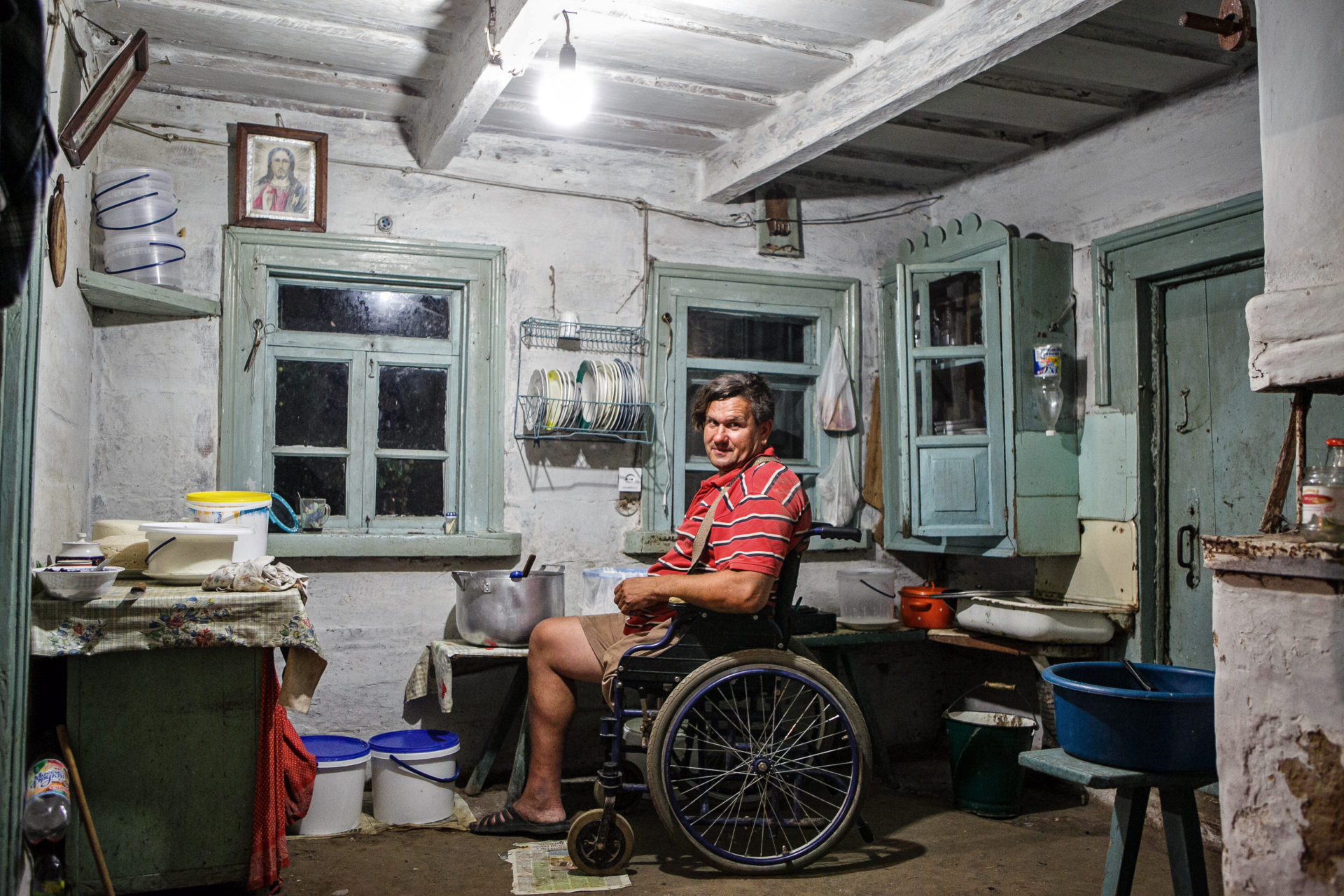 Treasures
The most expensive house in Desiatyny costs under a thousand dollars. Oleksandr Kononov has bought his even cheaper — for 13 thousand hryvnias: a wooden hut with dirt floor, an oven, the smell of mold and something ancient. From all the benefits of civilization there's only electricity. No running water – they have to use a neighbour's well. The house has been empty for seven years, so it keeps the new owner busy. But on the positive side — there are many antique things left from previous owners.
— "Do you know why Ukrainian women are so independent? I'll show you a really cool thing", intrigues Oleksandr.
From a pile of stuff he pulls out a real smoother.
— "The man comes home drunk and she would smooth him with this thing", he laughs.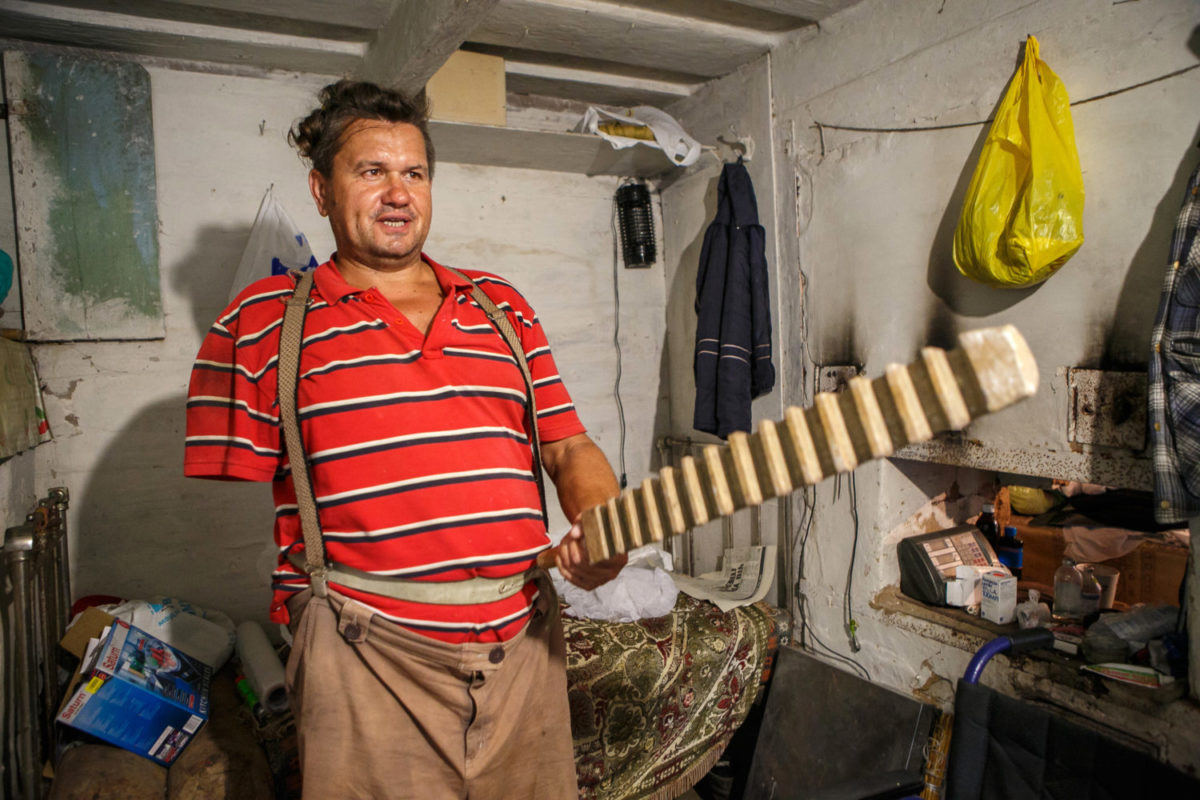 — "See, how beautiful?!" Oleksandr is showing the remnants of old linen handmade cloth. "We collect antiques around: mortars, chests, bast shoes, looms. We want to make two abandoned houses here into guesthouses in folk style. Something like an eco-village — with herding goats, milking them and making cheese."
Oleksander is a self-taught cheesemaker. Every day he is perfecting the technology. As the saying goes, he does it with his left hand only — but literally. For now he manages with a small electric stove, but soon the production will be moved outside: there they have already set a potbelly stove with a bain-marie.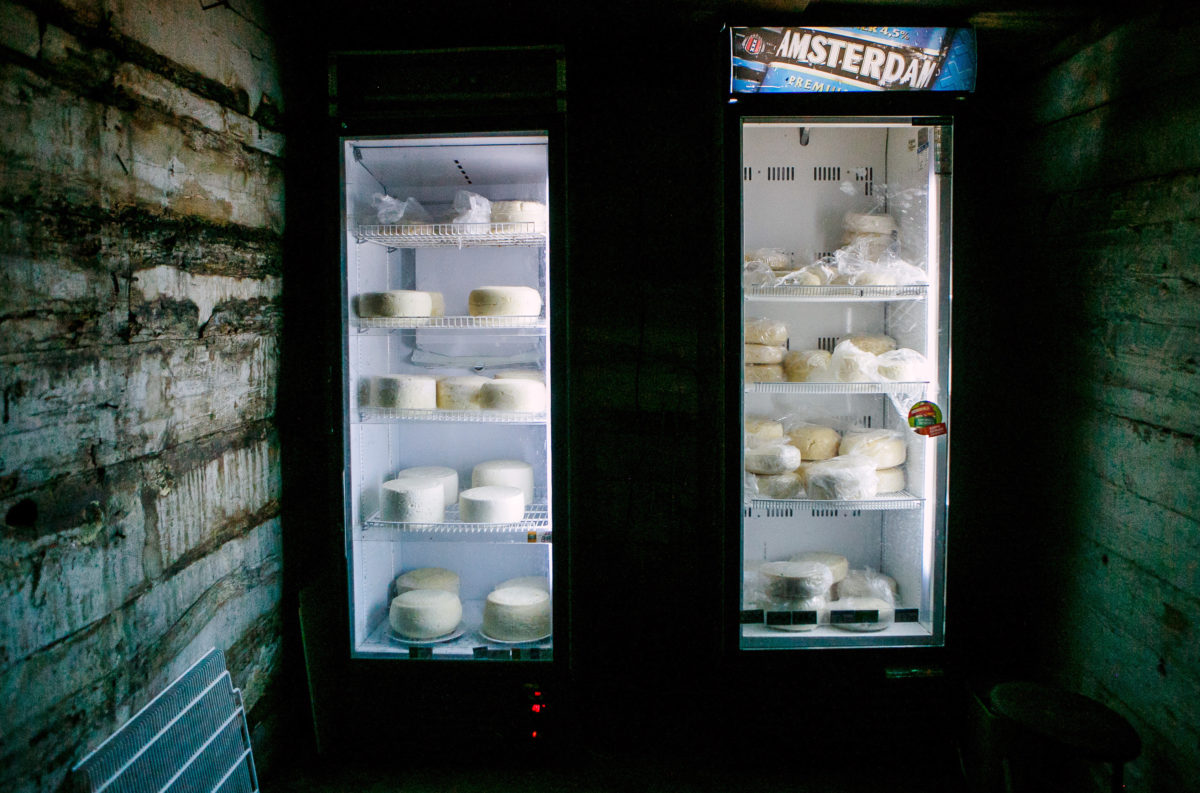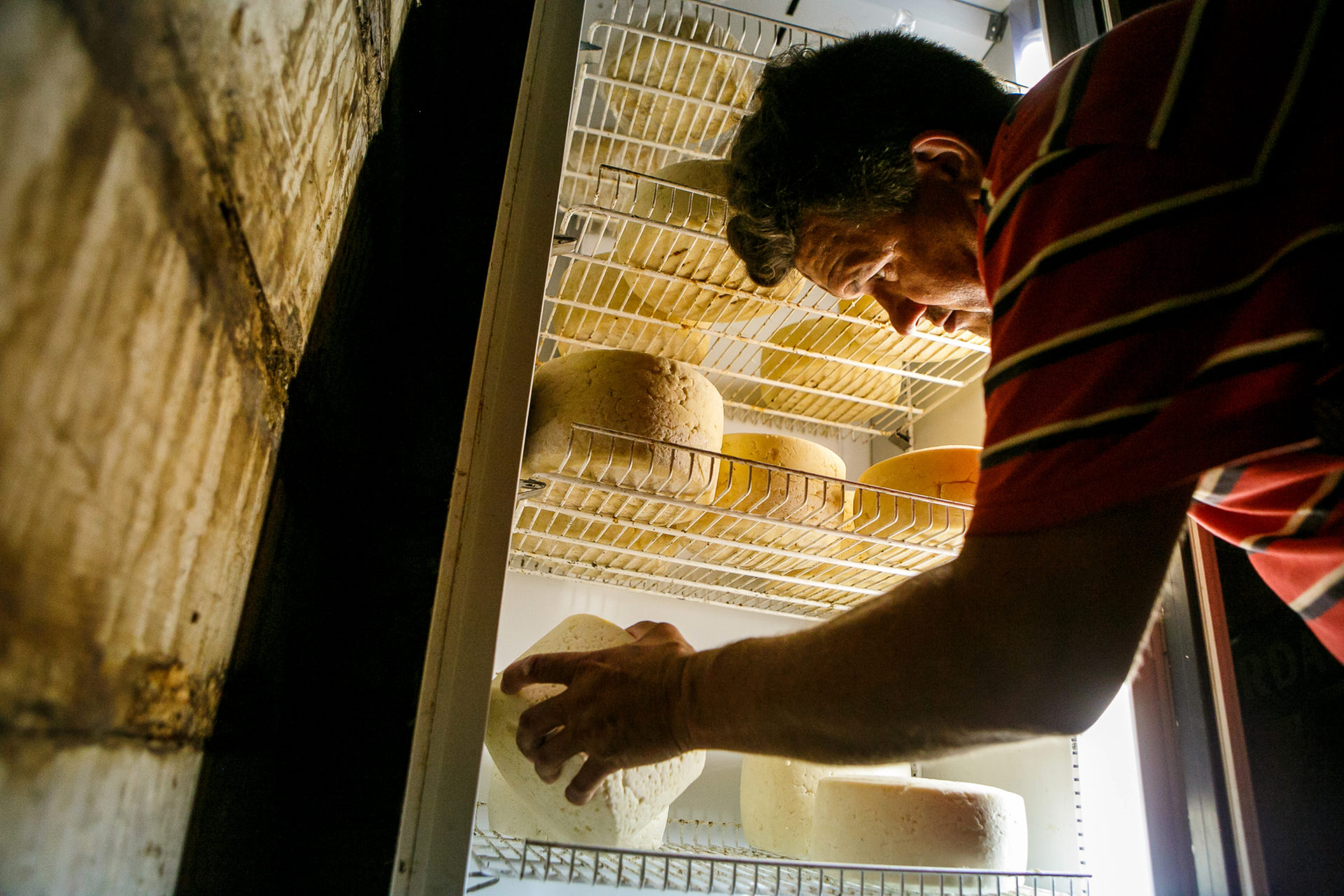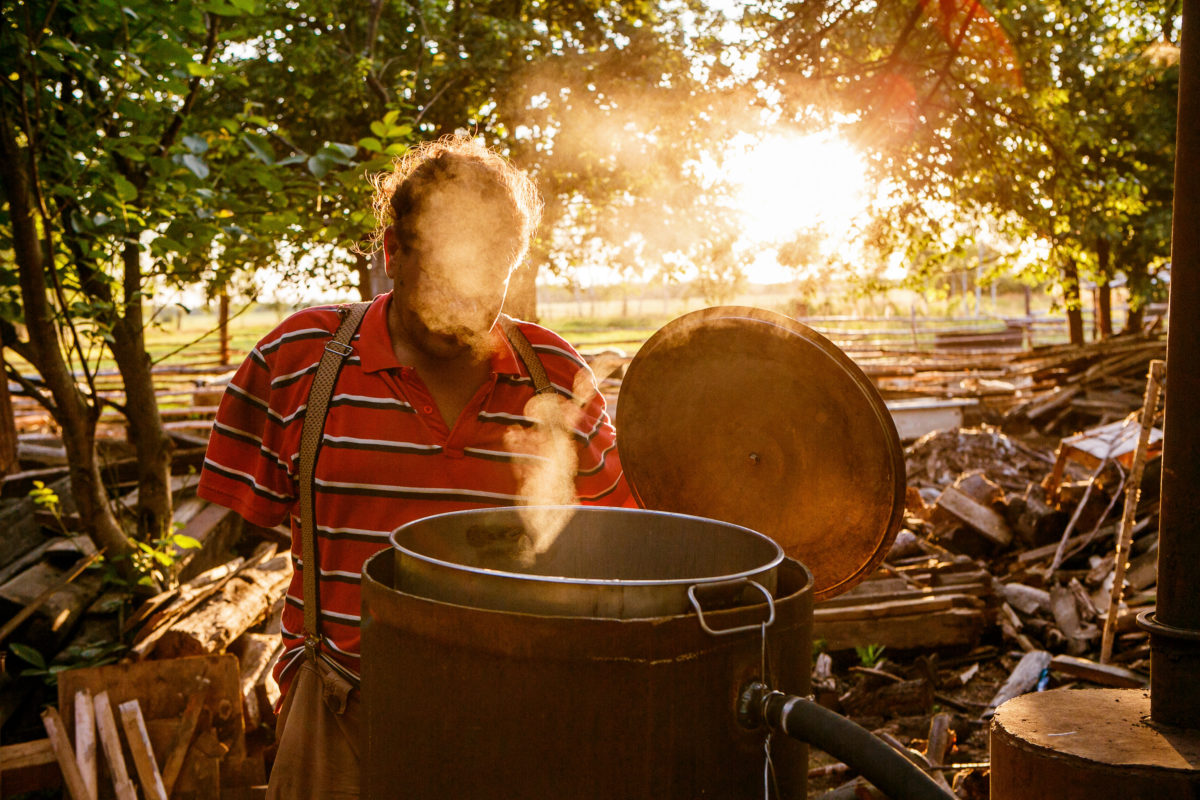 It takes 30-40 litres of milk to make a five kilo block of cheese. For now all his farm's daily production of milk is enough for two blocks. The Desiatyny cheese can already be bought in several shops in Kyiv (retailers get it at 230 UAH a kilo). For now Oleksandr can only dream of scaling up.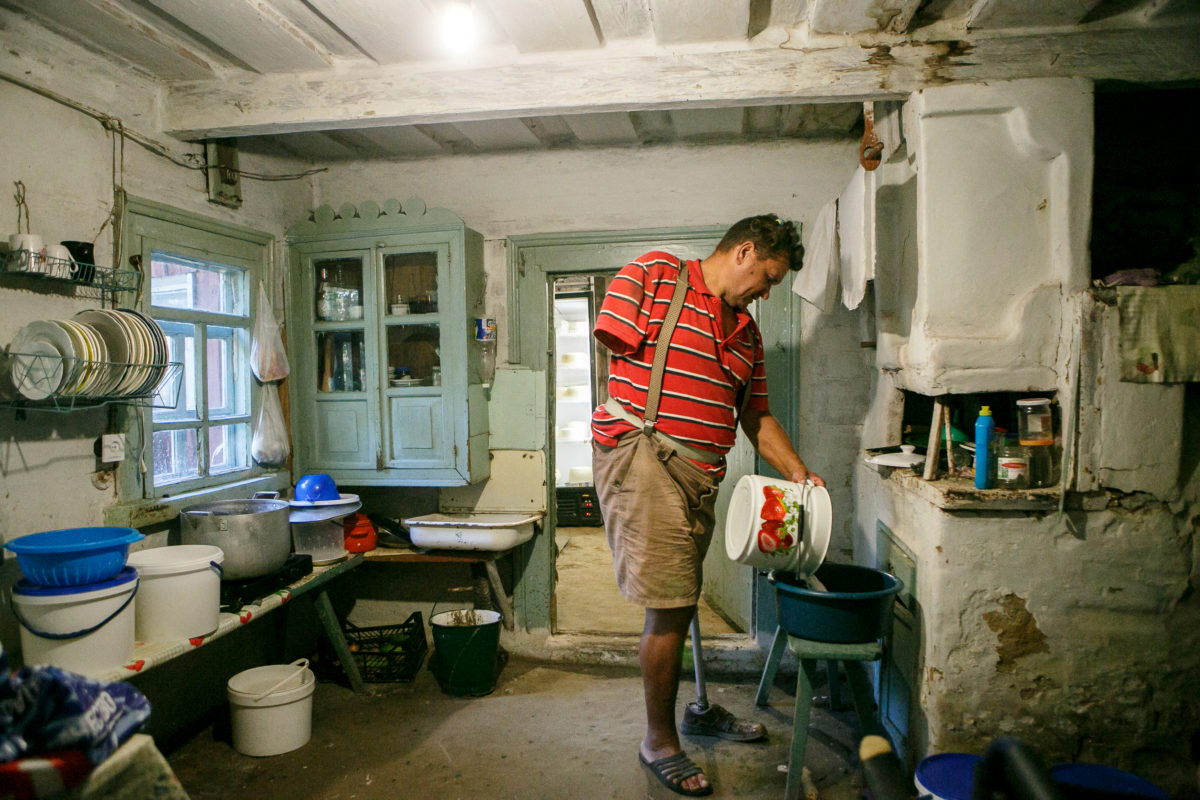 — "Generally speaking, the technology is very simple", says Kononov. — "We heat the milk up to 40 degrees, add the ferment. Milk curds, I press it and keep it in the brine for two days. Then the cheese matures in the fridge for several months."
Every block of cheese, says Oleksandr, is a real treasure, an exclusive product, with different shades of taste, smell and texture.
— "A different batch of milk gives a different flavour", explains the cheese maker. "Besides that, I love experimenting, adding cumin, anise, mushrooms…"
— "Do you have names for them?"
— "Sure thing! Toadstool cheese «Fantastic», The «Dear mother-in-law» with a deadly amanita, the «High in the sky» with hemp," Oleksandr adds jokingly.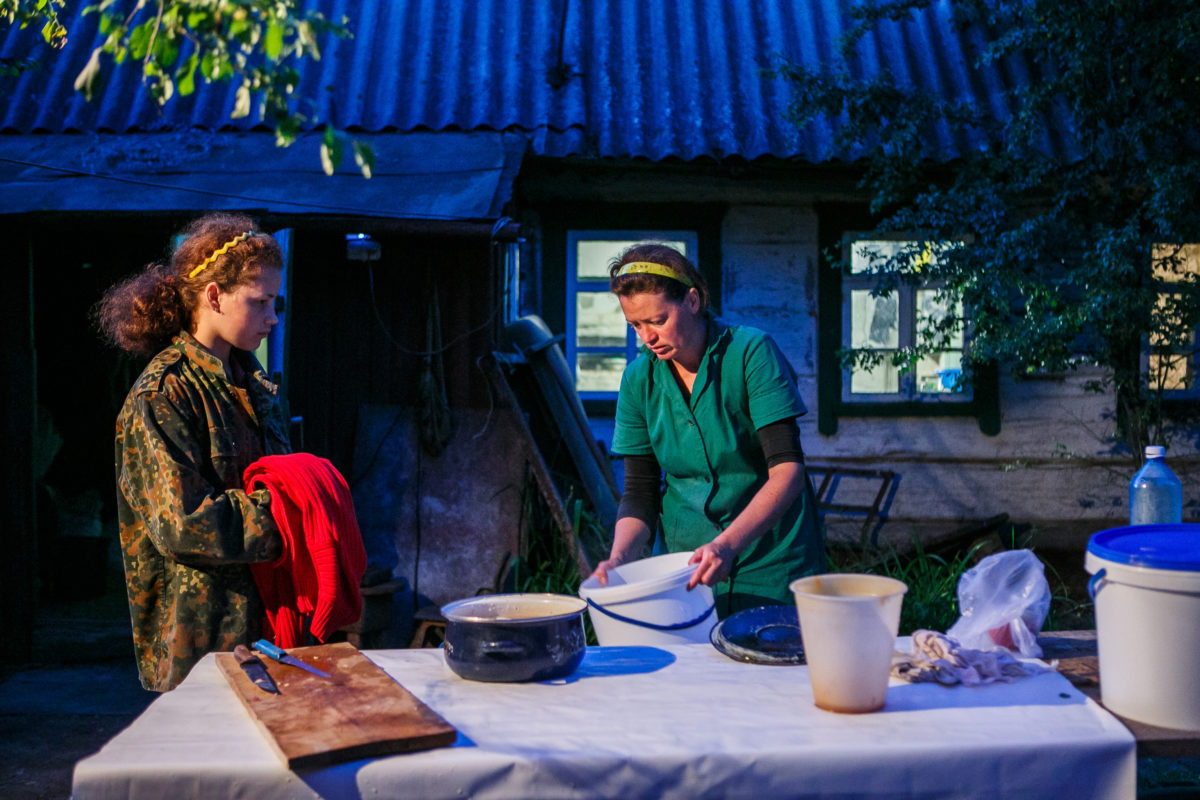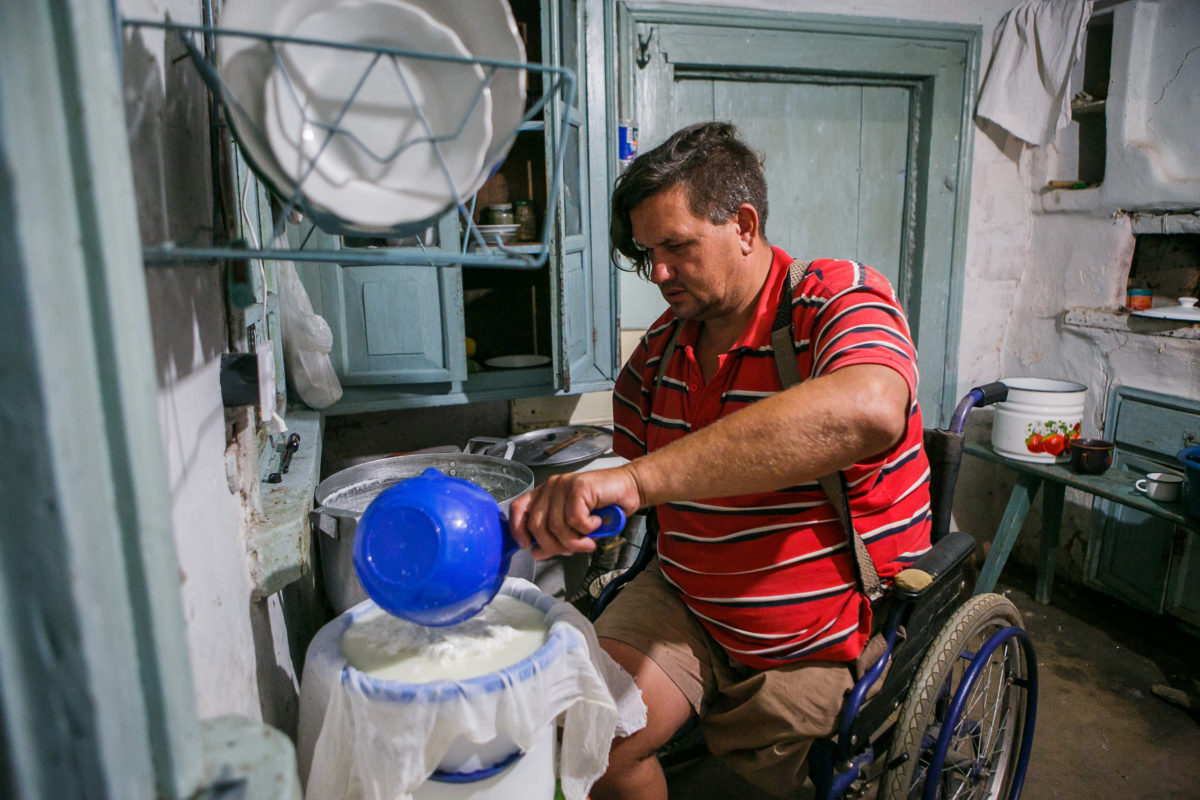 Dreamer
Sunset rays are shining through thick forest branches, filling in the yard with what looks like pink syrup. A pot is boiling on the fire. Oleksandr Kononov is stirring shurpa soup with the spoon and thinking about the future. His plans are far-reaching.
At the moment the man has 45 milk goats, 70 goatlets and 15 sheep. He needs at least three hundred beasts to make it sustainable. Oleksandr with friends are planning to make this herd throughout the next two or three years. His main goal is selling organic produce.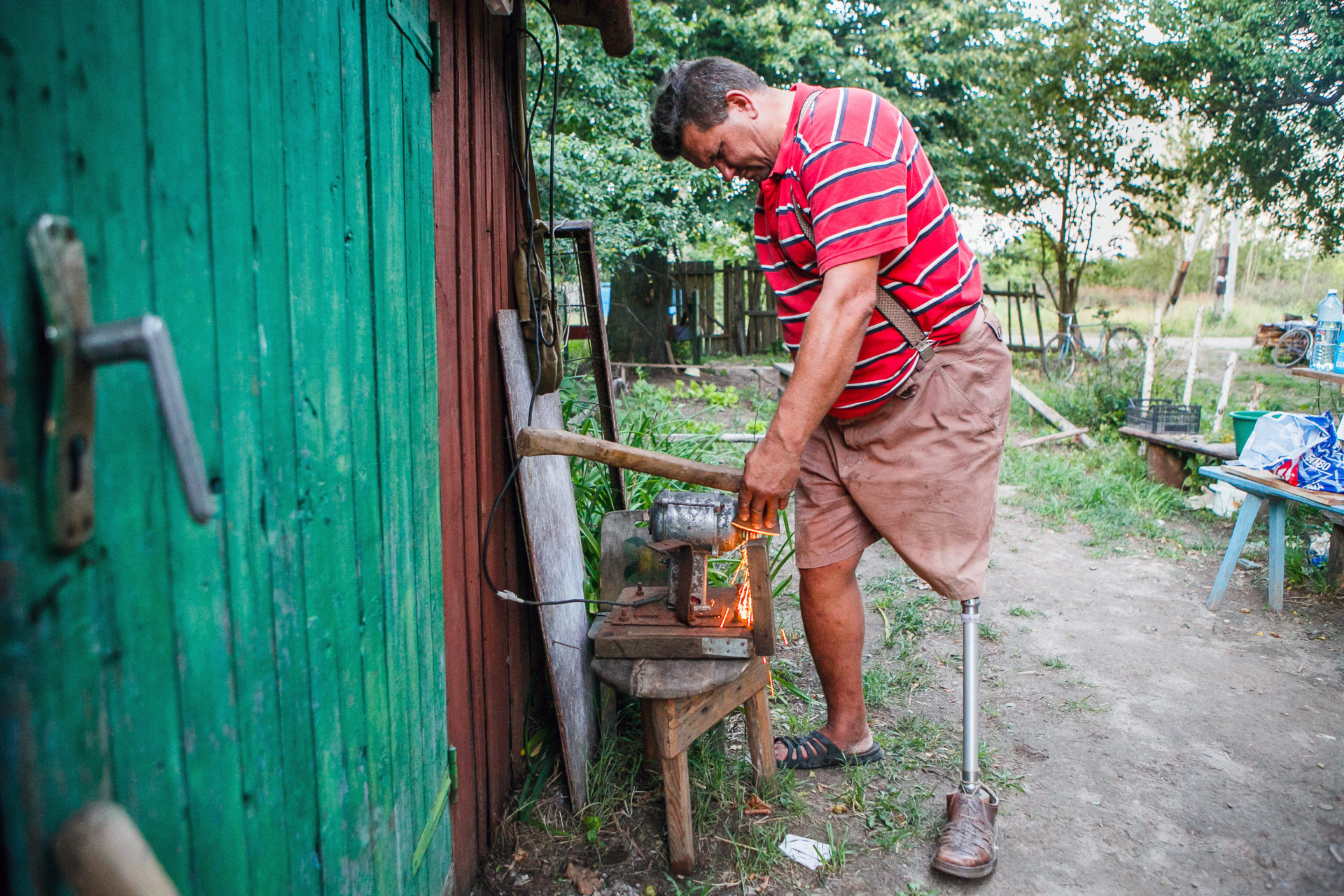 — "I am confident that agriculture can bring profit", says Kononov, pouring shurpa into bowls. "But I must scale up. Goat breeding has been unduly forgotten in Ukraine. In our country only 1-2% of milk production is goat. In Europe it's up to 35%. In Asia and Northern Africa — 55-60%."
If Oleksandr's plans will come true, true Renaissance will come to Desiatyny.
— "We have already employed five. So we're kind of bringing wealth to Ukrainian villages", he smiles. "So we want to transform a former collective cowshed into a goat farm. We've calculated an estimate — to restore the whole farm with the equipment we need around a million euro."
— "That seems beyond possible…"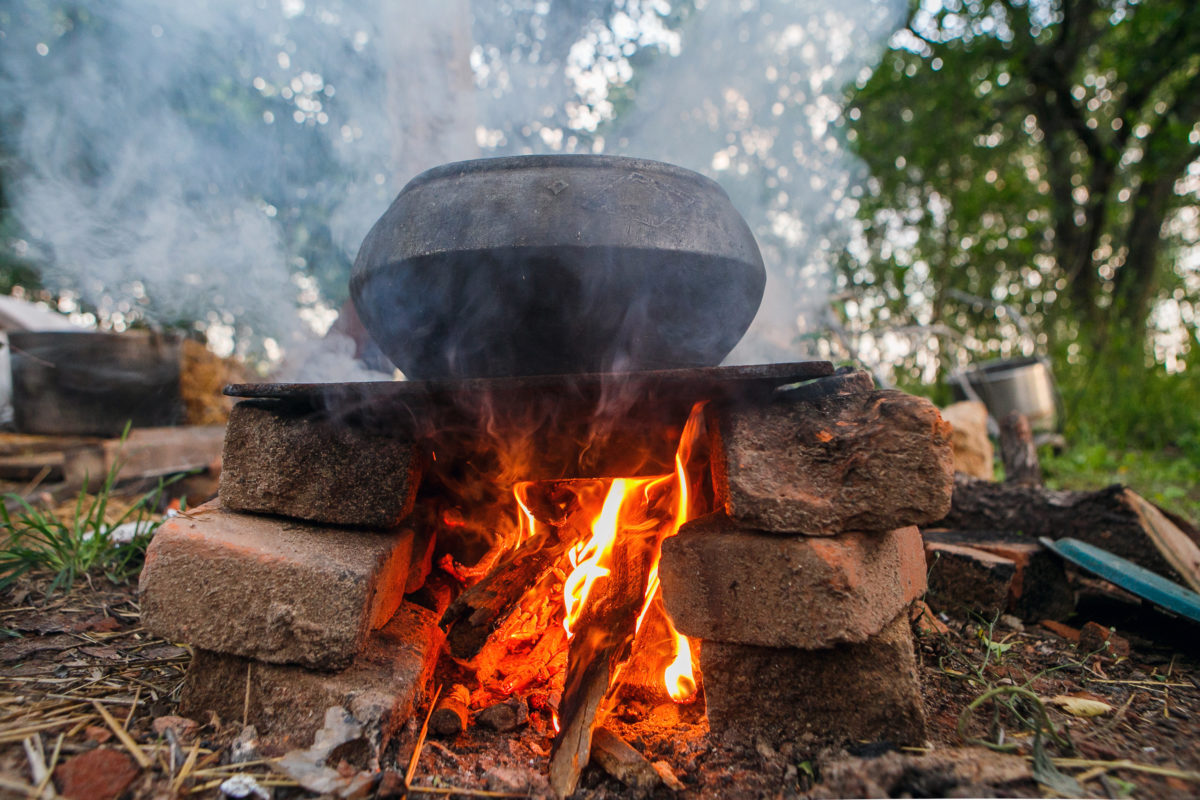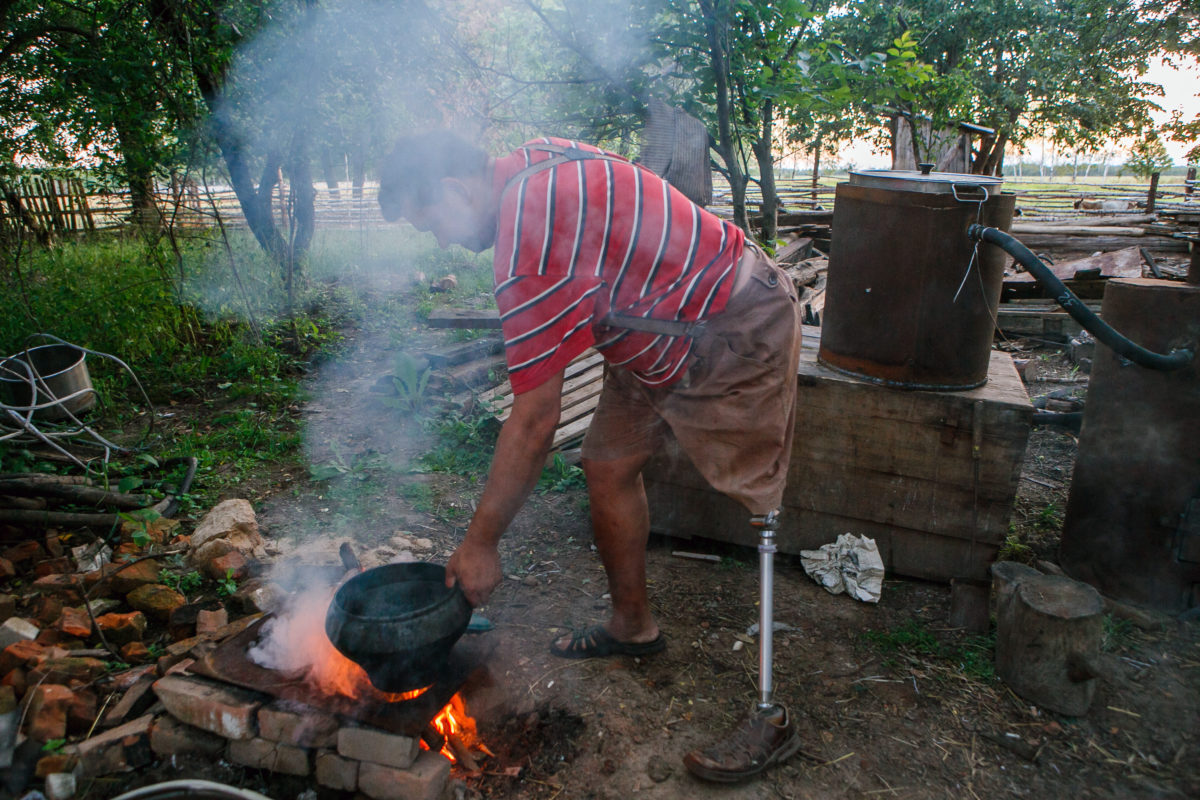 — "We must start with something. Like, now we've started putting the roof. We take cheap materials. But we still lack about 300 thousand hryvnias. For now we've decided to cover half of the building. We'll try to find an investor."
Seems like Oleksandr has answers to every question. Doubts and fears are not for him.
— "There are two ways to reach a goal: a realistic and a visionary one" — he shares his philosophy. "The first one is when we sit and wait for a fairy, a president, the government, social services — come and make us happy. Another — what seems impossible — when we get our asses up and start working. 90% of people are realists who don't even want to dream of anything."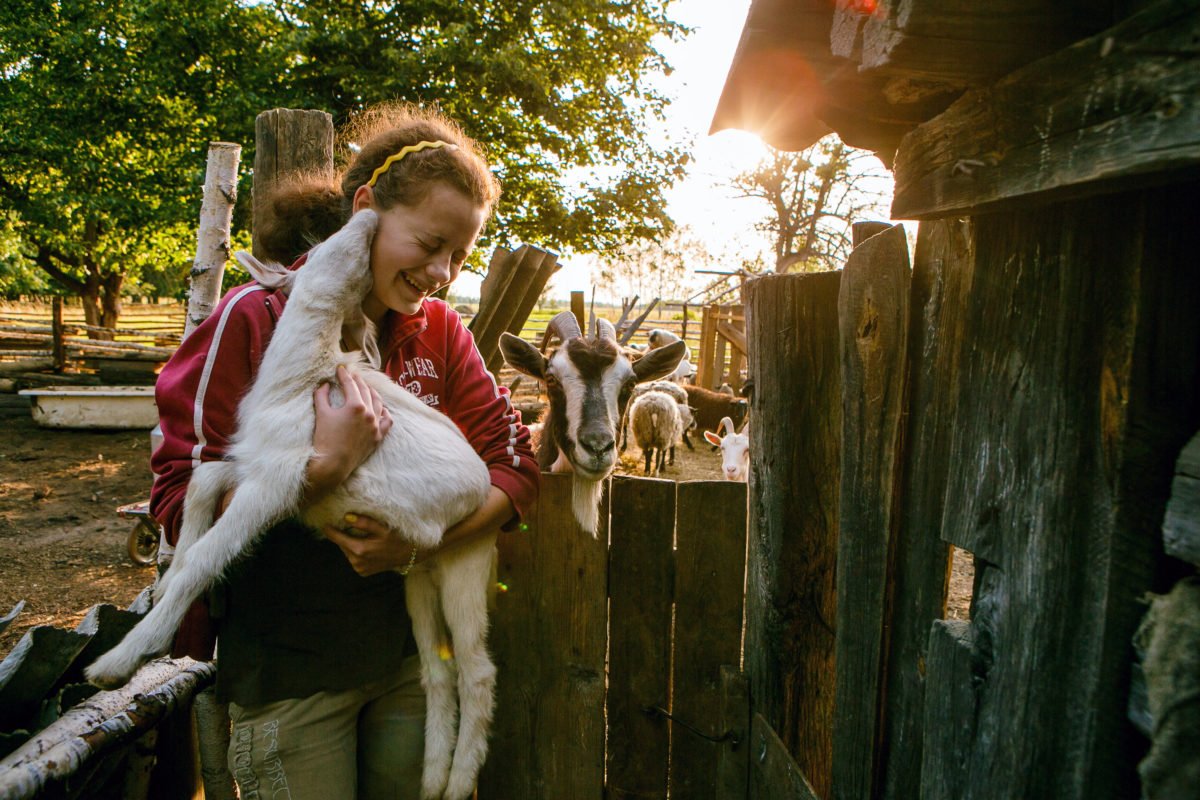 — "So you're a dreamer?"
— "I am a certified person with disability. Realists think this means I can't cook and help myself, somebody must do the washing and cleaning for me. Do I look like one? I do everything myself, I don't wait for help. Yes, I am a dreamer…"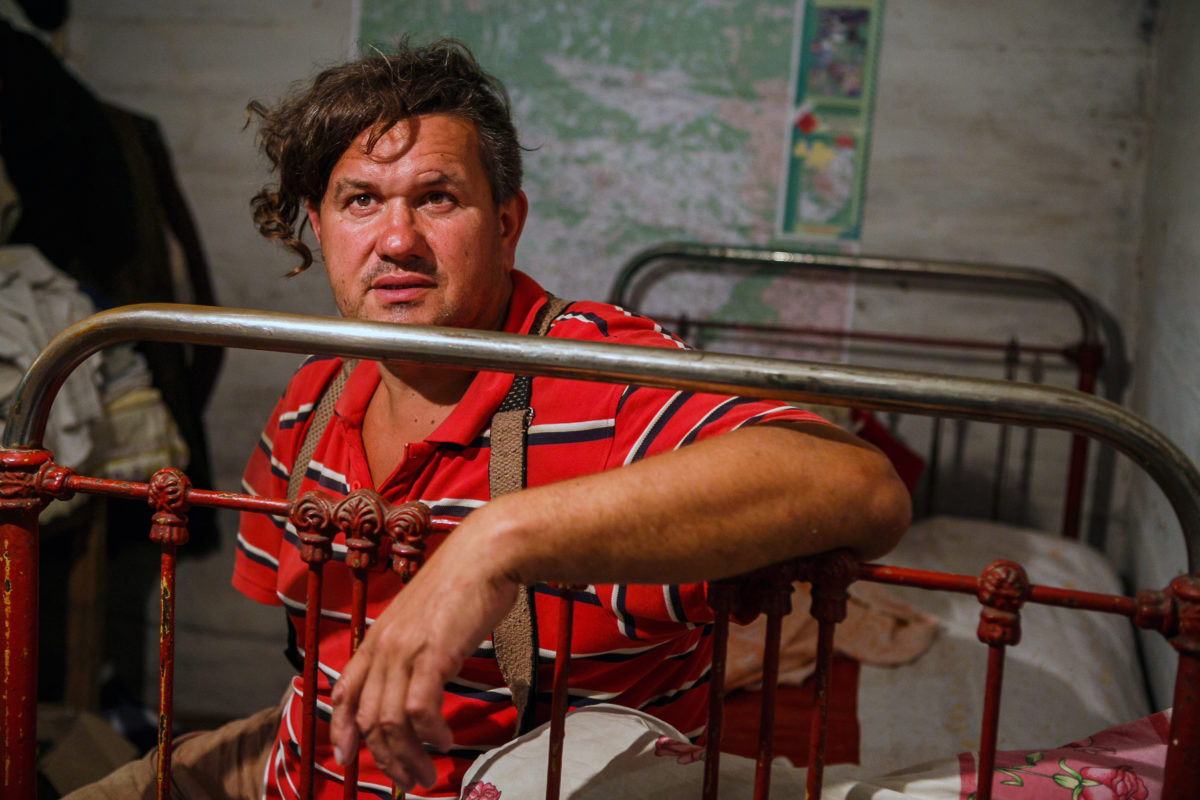 Night comes to Desiatyny. Cattle goes to sleep in their barn. Stars, brighter than the city lights, shine through the branches. The moon is there like a block of cheese. It's way past midnight, time to sleep. In four hours Oleksandr will be up again, will take a cup of strong tea and lead the herd again. Will he find happiness in the forests of Zhytomyr region? His careless smile and glint in his eyes tell me that he has already found it.
There are two ways to reach a goal: a realistic and a visionary one. The first one is when we sit and wait for a fairy, a president, the government, social services — come and make us happy. Another — what seems impossible — when we get our asses up and start working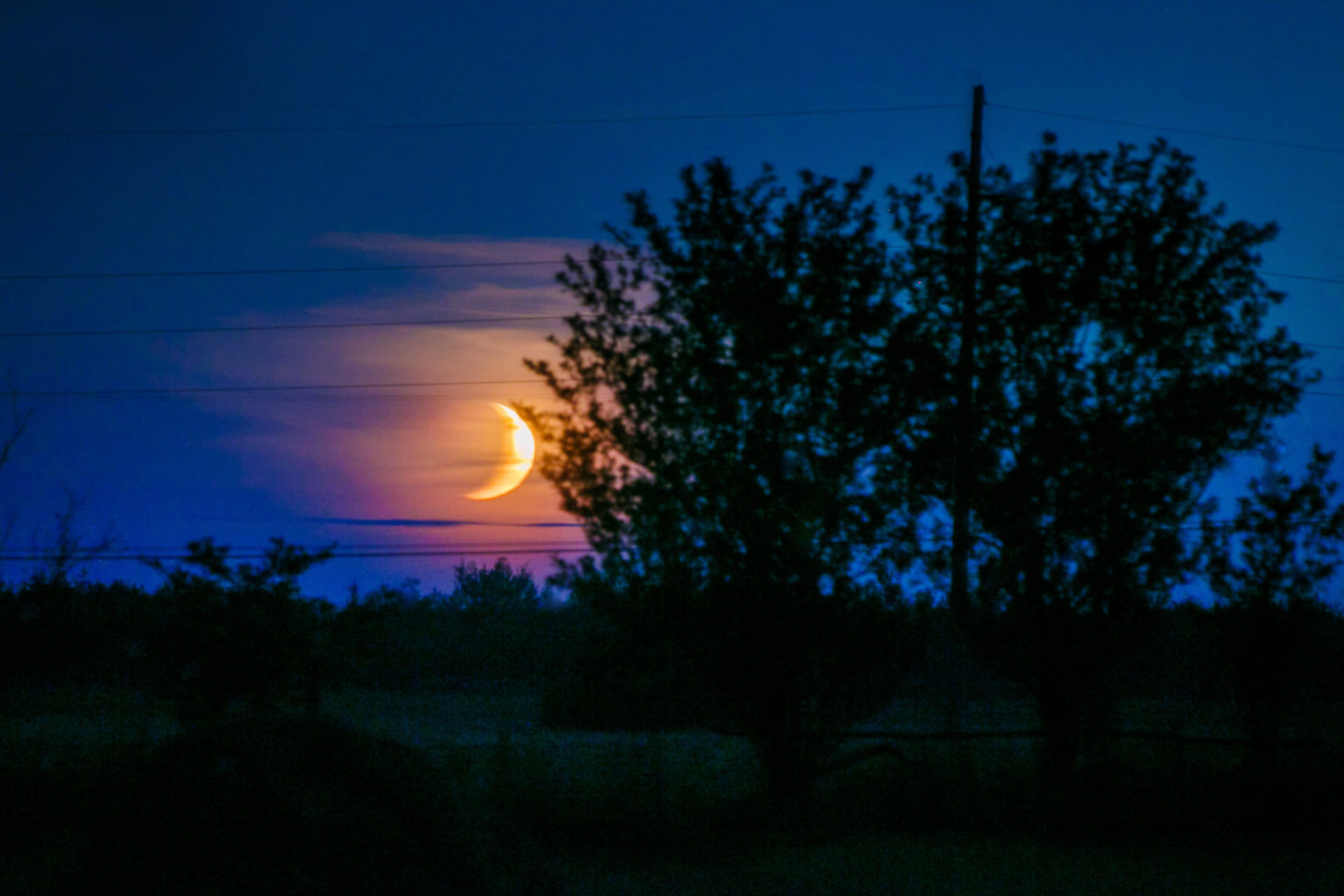 Text — Yevhen Rudenko. Photo — Danylo Pavlov.
Translation — Andriy Besedin.